Pajeon (파전) is a variety of Korean pancake (Jeon) prepared with green onions and a batter made of wheat (or rice) flour, water and salt.
There are many variations of Jeon  and they can include also seafood (haemul pajeon), beef or pork belly or kimchi.
The most common is the Pajeon with green onions and today we will prepare it together.
Ingredients for 2 pancakes ( 30 cm ø)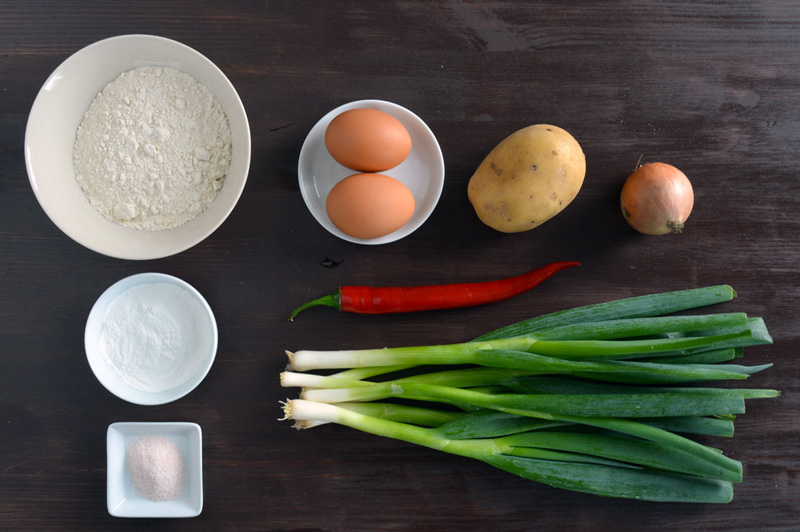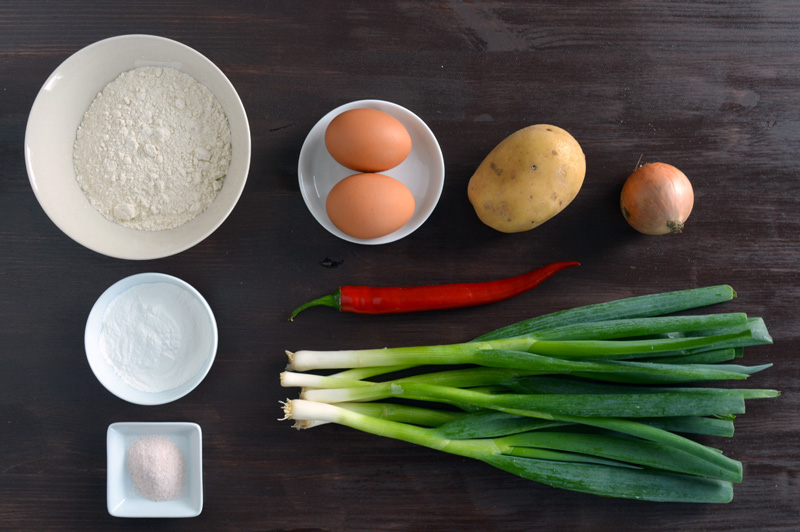 6 green onions
1 potato
1 onion
130 gr wheat flour (1 cup)
50 gr rice flour (1.8 oz)
1 cup of cold water (250 ml)
2 teaspoon of salt
1 fresh red chilli pepper
2 eggs
100 ml beer (1/2 cup) (optional)
Directions:
Prepare the batter mixing wheat flour, rice flour and water, making sure is not too thick or watery but of the right consistence. As option you can also add 1/2 cup of beer to make the batter more soft
Add salt and set aside
Clean, rinse and dry the spring onions
Cut the spring onions two parts of equal length. Cut them again in half along the length
Slice the onion and cut the potato into matchsticks
Add the onion and potato to the batter and mix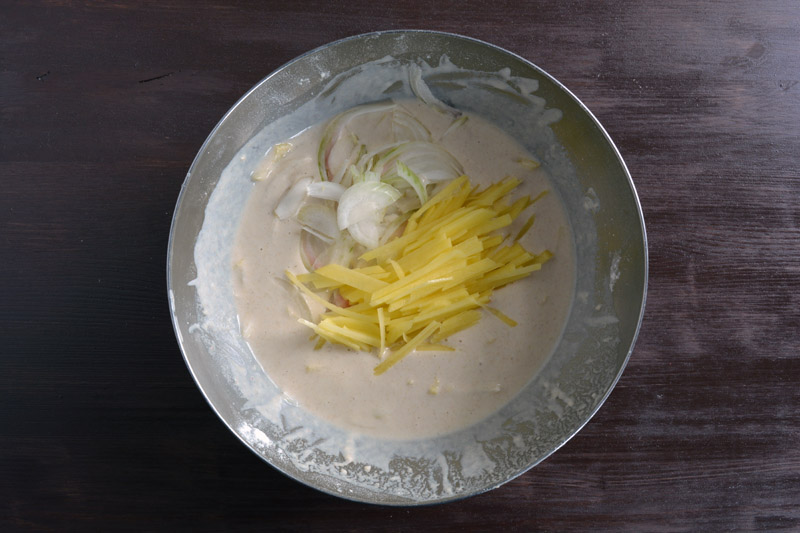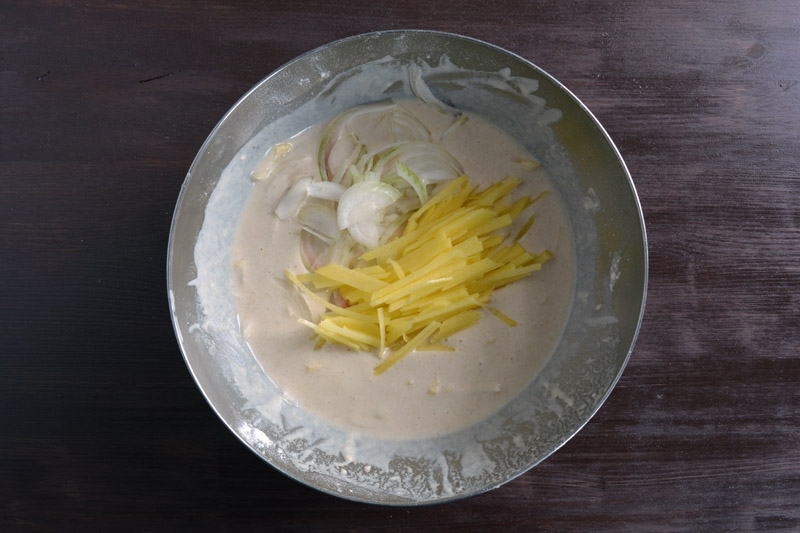 Put a non-sticky pan on the stove and heat it up. Add abudant vegetable oil for frying (about 3/4 spoons for a 30 cm ø pan)
Pour a bit of dough in zig-zag the pan. Place enough green onion on the pan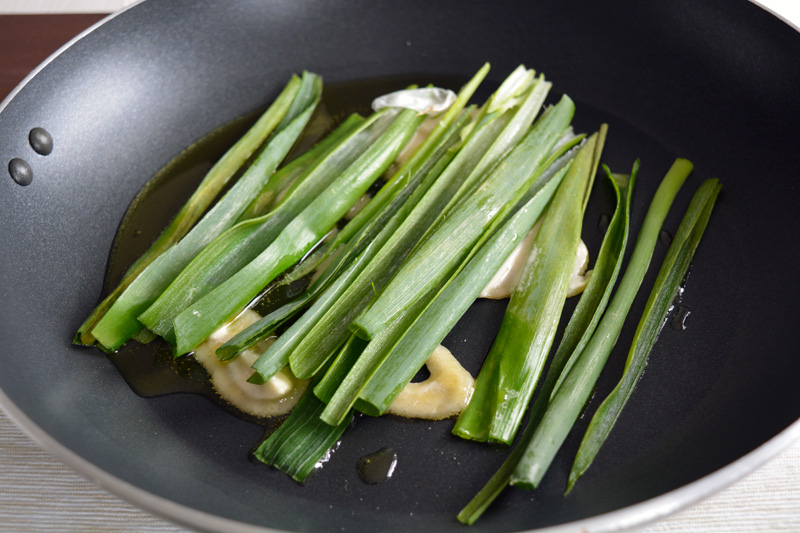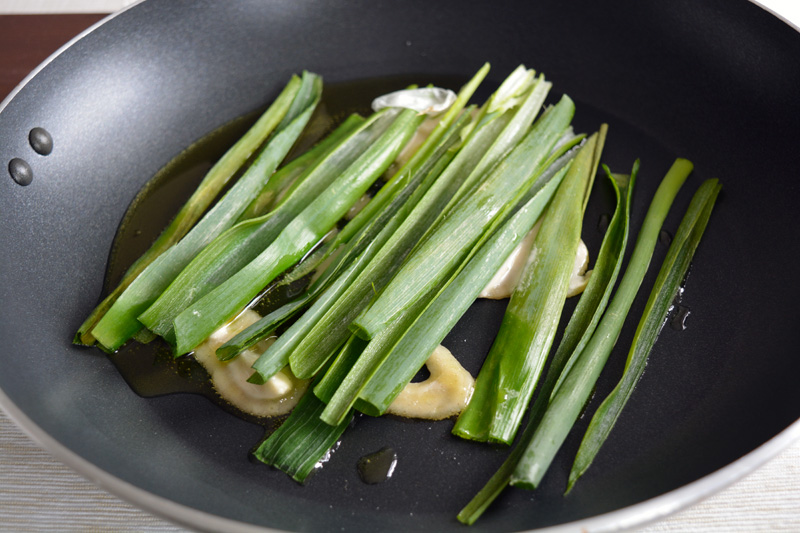 Pour 1 or 2 spoons of batter evenly on the green onion. Add sliced chilli pepper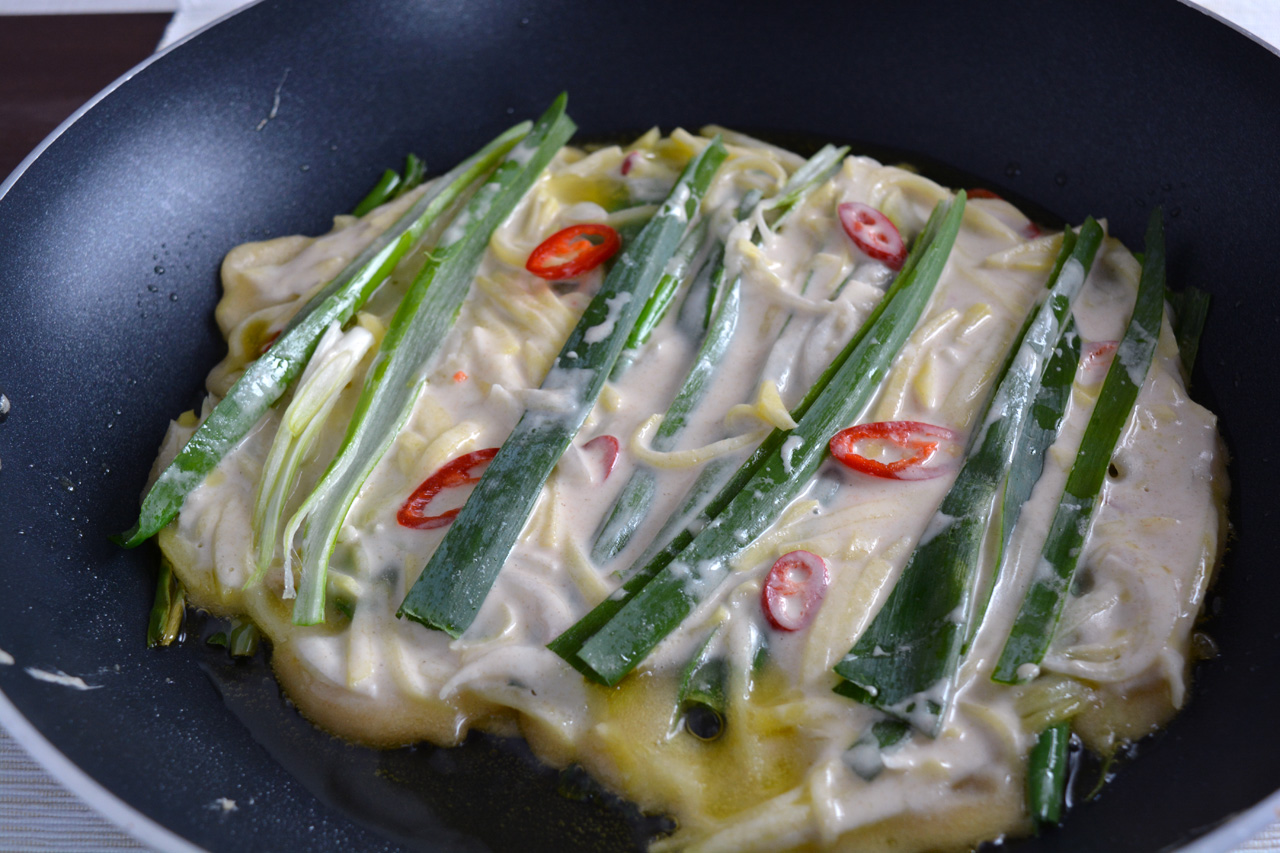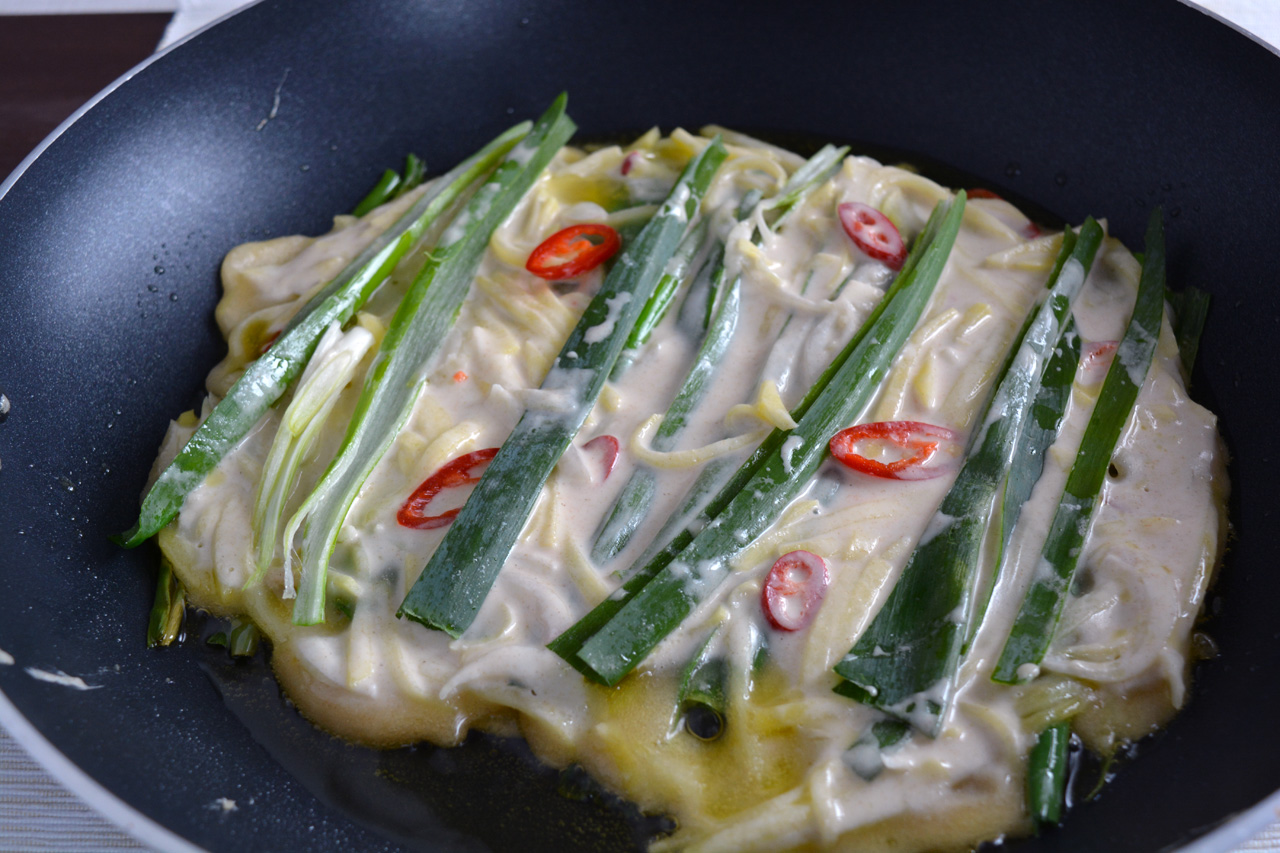 Mix the two eggs and add half on top of the pancake
With a wooden spoons pat and apply a slight pressure to keeping the pancake enough flat and to give it a shape
When one side is golden brown and crispy, flip it over and cook the other side.
Serve it hot!
For the dipping sauce mix 2 spoons of soy sauce, 1 of apple vinegar (or 2 of rice vinegar) and add a teaspoon of roasted sesame seeds and 1 chopped fresh chili pepper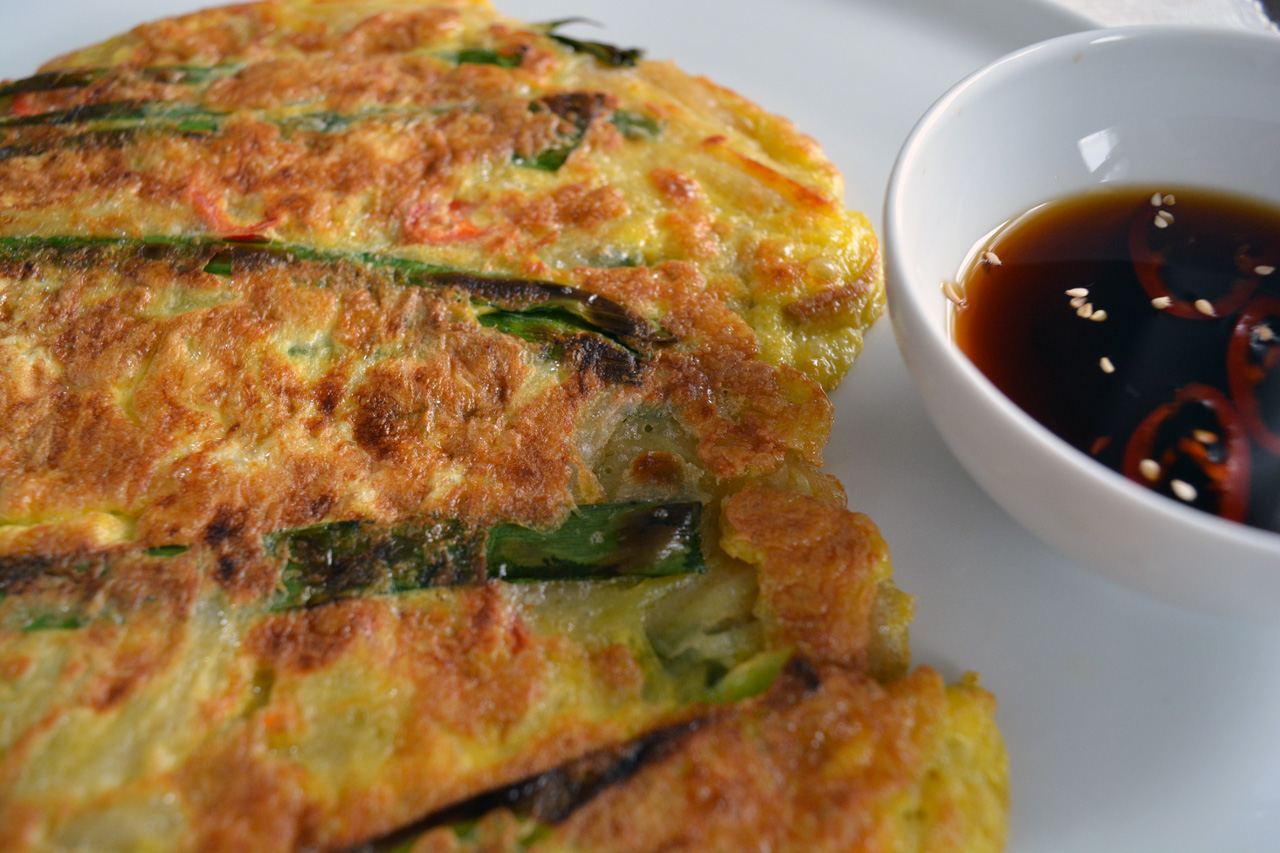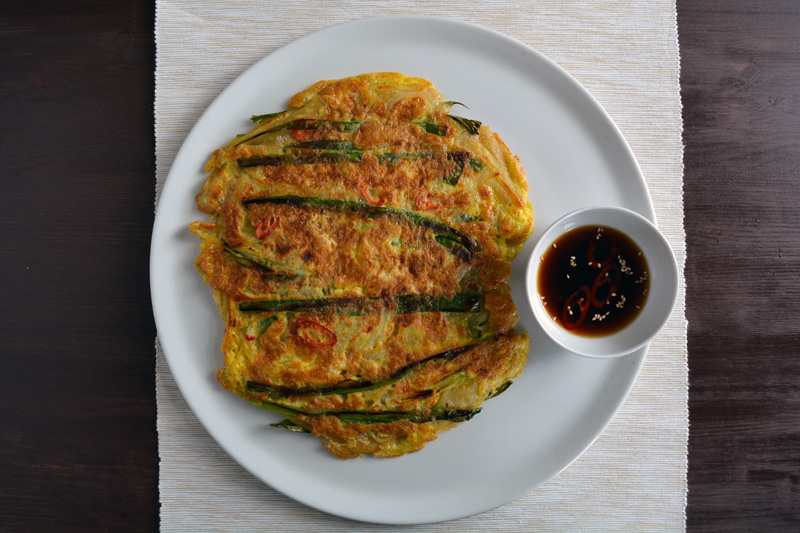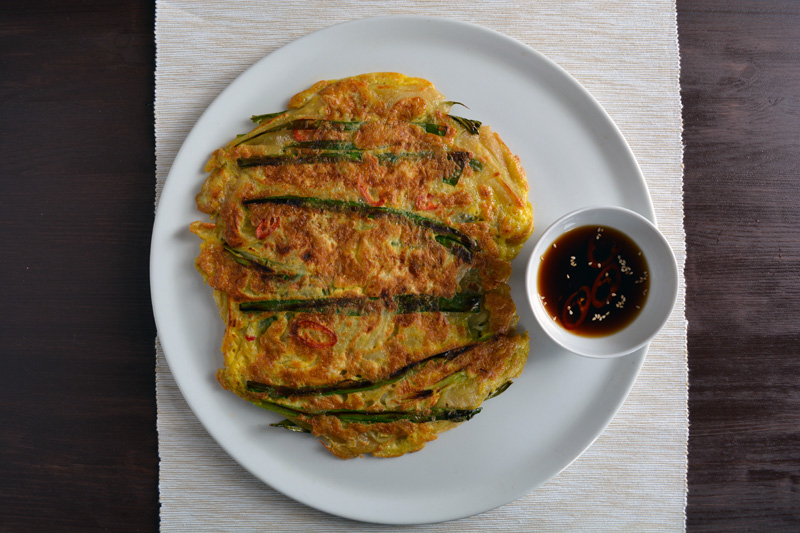 Pajeon is often consumed by accompanying it with rice wine (makgeolli) and, according to Korean, is a perfect food for rainy days