Hangang Brewery lies in Seoul within Seongsu-dong district, once filled with shoe factories and now redeveloped by street artists and the presence of cafe and restaurants instead of neglected old buildings. Close to River Han and in complete harmony with this area, Sung Yonk Koh (CEO) and Sang-Wook Lee (director) have been brewing their Naroo Makgeolli since 2018. It looks like tasting Seoul itself cause every single ingredient comes from the city and they chose to brew it in respect of time and simplicity. Makgeolli as good quality and sophisticated beverage is quite a recent rediscovery and is due to young people like Sung Yong Koh and Sang-Wook Lee who achieved the goal to redesign Korean tradition. They changed its appearence in order to adapt it to modern days but its inner value is still safe. Taste it to believe it.
Please could you introduce yourself and Hangang Brewery telling us something about your background and history?
Sang-wook Lee, director of Hangang Brewery, and I were friends before we teamed up to make makgeolli. I had work as a brand marketer and was running a cafe, and Sang-wook was working in architecture and construction when we first met. We instantly became friends. We had many things in common, and one of them was our enthusiasm for traditional Korean alcoholic beverage.
We enjoyed drinking diverse alcoholic beverages like wine, beer, soju, whiskey and, of course, makgeoll and other traditional Korean drinks. As I started to drink diverse Korean alcoholic beverages, I wanted to know more about them, so together with Sang-wook, we took a course on the traditional Korean drinks and started to brew our own makgeolli. I used to make simple plumb wines and herbal wines at home, but learning how to brew makgeolli properly was a whole new experience.
The more I learned about Korean alcoholic beverages, I felt bad that not many people are aware of their charm. Makgeolli is one of the most misunderstood drinks in Korea. It is sophisticated but many think that it is low in quality. I wanted to right the misunderstanding and make makgeolli trendy. So I teamed up with Sang-wook to launch Hangang Brewery in 2018.
Alcohol is an important part of any culture. It is so close to our everyday lives, but it existed long before our time and will outlive the present. It's amazing to drink a glass of wine and realize that people drank wine 5,000 years ago and they will drink it 5,000 years from now. Alcohol runs through the past, present and future.
Lots of Korean tradition was destroyed during the Japanese colonization. Before the colonization, we had many diverse traditional alcoholic beverages. Each region had its own unique alcohol based on the crops cultivated in the region, and it was popular to brew drinks at home with recipes passed down in the family.
I wanted to revive that tradition of makgeolli, and make it become a bridge among the past, present and future. That is why I decided to name the brewery Hangang, which means Han River in Korean. Our first makgeolli is branded Naroo, which means a dock in Korean. In the past, docks—or "naroo"— along the Han River, which runs across Seoul, were the center of trade, as they connected the East, West, North and South of the city.
Tradition. One word with many meanings. Sometimes it's seen as an obsolete burden while other times it becomes expression of cultural richness. Successful people are able to add innovation to tradition. I think it's what you did with makgeolli. You took something from the past, you changed its appearance but you kept its original soul. When and how did you come up with this idea? Why did you choose to brew makgeolli?
I totally agree with your description of tradition. Sometimes it is seen as something old and outdated. But once you add innovation to it and make it relevant to the present, it becomes something classic. There is a bias in makgeolli that it is "cheaply made," "cheesy in design" and "not trendy." But in fact, makgeolli has a long history. It is sophisticated and unique in taste. I felt bad that this good drink with long tradition was becoming something old and outdated. I think makgeolli has so many possibilities.
With Hangang Brewery, we wanted to change the perception people have on makgeolli and traditional Korean alcohol. I wanted to popularize them. We wanted to differentiate our makgeolli not just in taste but also in design of the package and marketing. I designed the label and the shape of the bottle to make it young and trendy. For marketing, rather than focusing only on the benefits of the yeast and lactic acid bacteria in makgeolli, which is a go-to marketing strategy for many other brands, we chose a fun and interesting way to reach consumers. Of course taste is most important. We wanted Naroo Makgeolli to be traditional and trendy in taste so that younger generation can enjoy it.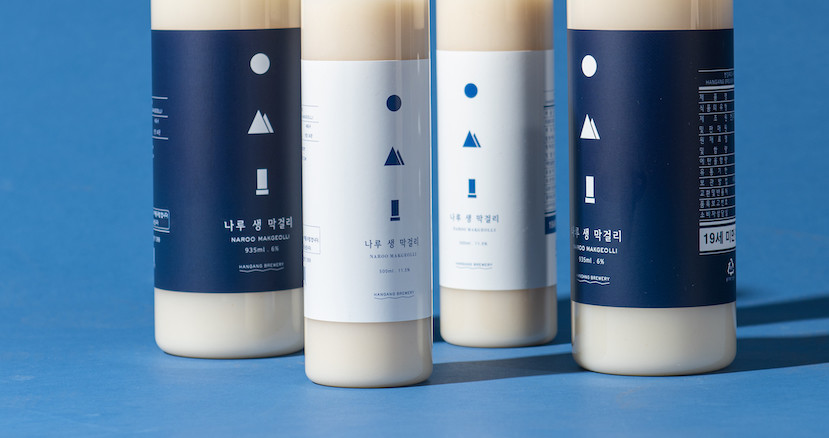 Naroo Makgeolli is your first product, how would you describe its taste to people who have never tried it?
Naroo Makgeolli is made mainly of rice. Words used to describe the taste of Naroo Makgeolli are fruit-like sweetness, creamy, smooth, refreshing, tangy and dry finish.
When you drink Naroo at its first and second weeks, the first impression you get is its fruit-like sweetness. That is purely from rice. We don't use artificial or natural sweenter. We don't inject carbonic acid, so Naroo is less fizzy especially during the first weeks. With time, it becomes more fizzy and refreshing acidity starts to build up.
As many other makgeolli, Naroo matures in the bottle. Here is how its taste evolves from week 1 to week 4.
Week 1: Hint of fruity flavors, smooth texture on the palate
Week 2: Great balance between acidity and sweetness from rice
Week 3: Refreshing taste with green apple-like acidity, hint of fizziness
Week 4: Fizziness, acidity, great dry finish
You did a great job about design and packaging, one glance to Naroo Makgeolli is enough to state it. Your ad video on youtube is funny and cool too. I'd say you're trying to attract young target consumers rather than regular makgeolli drinkers.
Yes, Hangang Brewery's major target customers are younger generation in their 20s to 40s. Many of them are not interested in makgeolli or, even worse, have bad impression about it. So while making sure that the taste is good, we designed and marketed Naroo in a trendy and interesting way to catch the eyes of the younger generation.
You pay great attention to the ingredients and where they come from. Could you tell us something about Naroo Makgeolli's ingredients and the importance of territoriality in your concept?
Hangang Brewery uses rice cultivated in Seoul. We produce Naroo Makgeolli in Seoul with a single rice variety known as Chuchung. Naroo is made purely of rice, water, yeat and Nuruk—a traditional fermentation starter—and no artificial or natural sweetener is used. As rice is the main ingredient, we are paying attention to its variety and where it comes from, to maintain the taste and quality of makgeolli.
The rice used in brewing is branded Gyeongbokgung Rice, and it is recognized by the Seoul Government as one of Seoul's local specialties.
Brand: Gyeongbokgung Rice
Variety: Chuchung
Area of Production: Gaehwa-dong and Ogok-dong located in Gangseo-gu, Seoul
Land Area: 284 ha (860,000 pyeong)
There are other ways to get rice at lower price than sticking to a single variety of rice produced in Seoul. But we use rice from Seoul because of its great quality. The area where Gyeongbokgung Rice is grown has good geographical traits to plant rice. It is a plain close to Han River and Seoul Government and the borough office strongly support farmers to maintain the quality of rice. I believe great ingredients make great makgeolli.
And there is identity. Hangang Brewery is a craft brewery located in Seoul, and it is named after the river known as one of the symbols of the city. I believe local brewery should use locally produced ingredients, and grow together with the local people. We use rice grown in Seoul because we are a part of the local community and we identify ourselves as a local brewery.
And what about the brewery and fermentation process? In what way do you differ from any other brewery company?
To make Naroo Makgeolli, we use a technique called "Samyangju," which means you go through three steps to brew makgeolli. First we make "Godobab," which is basically steamed rice but made in a specific manner to make rice suitable for brewing makgeolli. We mix the steamed rice with water and "Nuruk" and start to ferment the mix.
Couple of days later, we make another batch of steamed rice and add it to the first batch. This process is repeated twice to complete the fermentation.
Not many breweries opt for "Samyangju" process to save time and energy. But we believe this is a great way to produce good makgeolli. On top of that, we have our own secret recipe to make makgeolli sweet and tasty without ading sweetner.
Recently you added an online shop. Have you ever thought to export makgeolli? Do you think non korean people could appreciate it?
Selling alcohol online is only allowed to a group of selected beverages that are licensed as the traditional alcoholic beverages of Korea. Hangang Brewery's Naroo Makgeolli is licensed as the traditional alcohol and recognized by the Seoul Government as Seould' local specialty. This enabled us to sell online.
Makgeolli is quite popular among non-Koreans living in Korea. I believe it can be loved by people around the world once it is properly introduced. Unfortuneatly we don's have a specific plan to export yet. I hope Hangang Brewery can export our drinks one day and introduce makgeolli to many people around the world.
New projects on going?
We are working with other brands well known in Korea to introduce new alcoholic beverages. Some of these brands are not in the alcohol business. Our goal is to collaborate with brands in diverse industries to introduce Naroo Makgeolli and Korean makgeolli to as many people as possible. We are also working on developing new drinks, which, I hope, will be introduced in the market soon.
Written by Claudia Gifuni