Today we are in Berlin to meet Lauren Lee aka Fräulein Kimchi , Korean American chef who has turned her passion about food in one of the best fusion and street food Korean restaurant in Germany.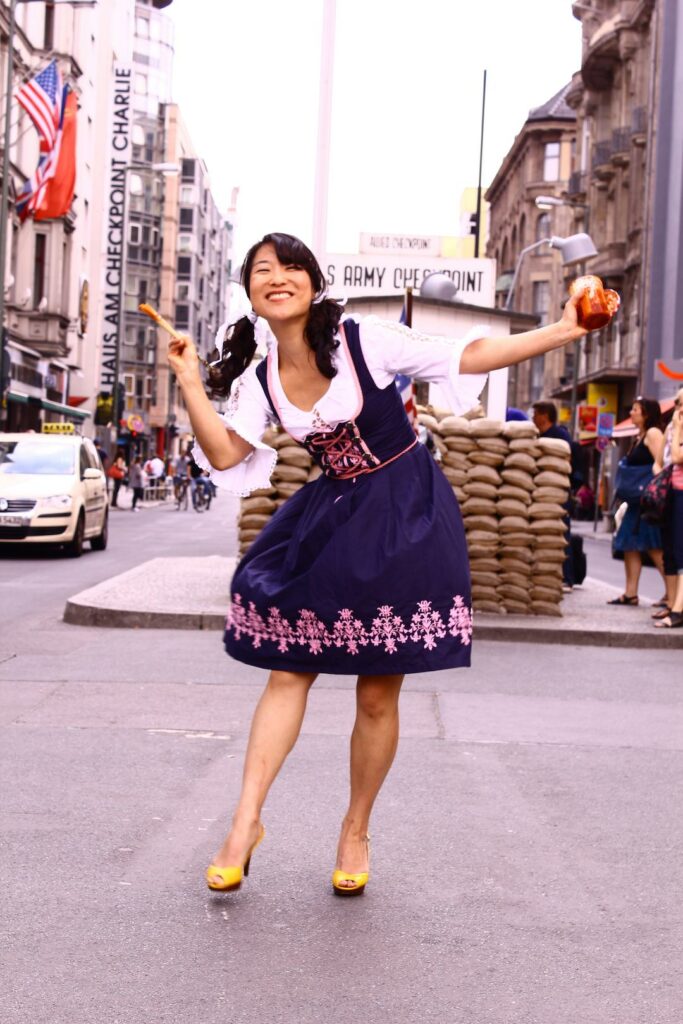 How did your love for food come about?
I always loved food and even as a young child remember being interested in cooking and experimenting with food.  Growing up both my parents worked so I was a latch key kid and would be at home for hours alone with my older brother before my parents got back.   I remember when I was 8 years old I wanted to have dinner ready for my mom when she came home from work so that she didn't have to cook.  I made my first meal ever which was a fried rice with jangjorim, which is a braised, pickled beef that we always had in our fridge.  My mom was very surprised for sure when I had dinner ready that evening.  From then on I was always cooking,,  especially American cakes, cookies and pies which were things my Korean mother didn't know how to make and that I wanted to eat!  By the time I was in high school I was in charge of making our Thanksgiving meal and took a lot of pleasure in cooking food for family and friends.
I also lived in Berlin for a while and I am curious to know what do you like the most about the city and how it has influenced you and your food with its unique vibe.
I think Berlin is an interesting city because it's constantly in flux and there is always the ability to reinvent yourself along with the city. Moving here 14 years ago when the international food scene was barely existent was the impetus for me cooking Korean food because it was something I missed and couldn't find very easily. I started with making kimchi and along with that came the desire to fuse together all the different dishes I was eating for the first time, such as spätzle, with Korean flavours. My first roommate came from Bavaria and would make Käsespätzle often. Creating Kimchikäsespätzle, one of my first popular dishes just came about as a natural progression of experimenting with the ingredients we had in our shared German/ Korean-American kitchen and it was a perfect marriage. Since then, I am always interested in creating new flavours and dishes from both the local cuisine to the dishes I've tried in Italy, France, etc during my travels and recreating them from a Korean viewpoint.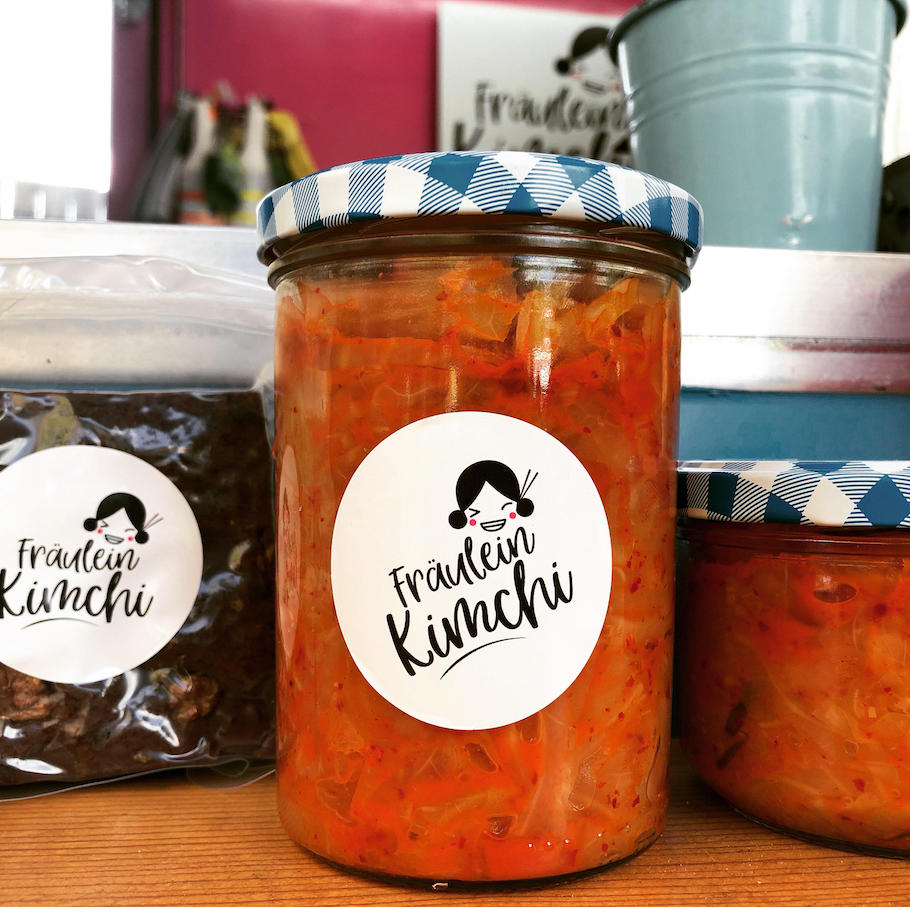 A Korean American living in Berlin. Sounds like a meeting of different cultures that might seem far from each other. What do you love the most about the Korean food and how you transmit it in your food?
What I love most about Korean food is the variety and balance in each meal. I never grew up eating only one "main dish". There was always a banquet of flavours and side dishes with the variety of banchans along with the rice, kimchi, a simple hot soup and the "main" which was anything from different stir fried vegetables and meats, bbq meats, noodles and stews. I think it's one of the healthiest cuisines because there is such a good mix of vegetables, ferments, starches and proteins and little animal fats. Even when I am cooking western type meals, I always strive to have a balance of textures and flavours from spicy, salty, sweet, bitter, sour, umami and have plenty of vegetable components rather than just the meat and potato stereotype of American/German food.
We met in 2015 during a lunch at the company where I was working and you were catering there. Your catering was without a doubt one of the favorites of me and my previous colleagues. How has your job and your food evolved over the years?
In the beginning in 2013 I was just a street food stand at Markthalle 9 and I was really focusing on doing Korean food but once I started catering I had to expand my offerings, because not everyone wants to eat Korean food every day for lunch (except for me). Cooking for Kayak, where we met, was really the start of my catering career. They were the first company that hired me for regular office catering and I learned a lot through cooking office meals for them. You could say it was really learning by doing. When I first started out I was renting a very small kitchen that only had 3 induction plates as a means to cook food so it was a real challenge creating menus that would be tasty for 100+ people and manage to cook everything in a tiny space plus sharing a kitchen with 4 other people. I had to focus on doing stews and braised meats or anything that could be cooked in a large pot. It would get pretty hectic in the mornings trying to get everything done while timing who got to use the induction plates! Eventually I was able to move to my own small production kitchen and having the use of an oven, grill, stovetop and fryer felt like such a luxury and we were able to expand on our menus and create a lot of new dishes. This was a really great creative time where I was testing out new methods of cooking and different recipes. I started making more Chinese-American dishes and Mediteranean food because we now had the ability to fry and roast and grill foods. I was also able to take on additional catering clients because we had increased capacity and as of last year we moved into a much larger space which has really felt like a dream. I have found every time I moved kitchens my business grew along with the bigger size and space we had, which has been really nice. In our new place, we finally have the space to do a lot more intricate dishes and platings and had started doing more fingerfood catering and more fine dining style menus in addition to our lunch catering. Of course now with Covid we are in a new situation and most of those events are no longer taking place but all things considered, we have managed to stay stable in the new economy.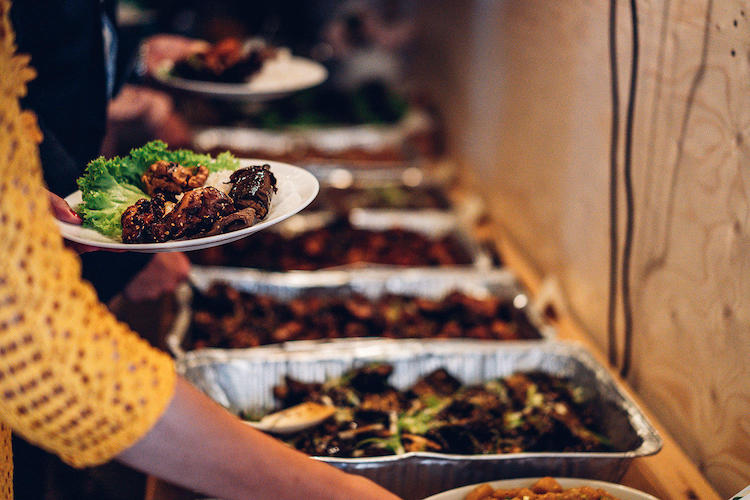 What would be your ideal Korean menu for a special celebration?
This is a typical menu we used to make for big family gatherings or Christmas parties
Galbi-jjim (braised short ribs in a sweet soy marinade with chestnuts and korean dates)
Daejibulgogi (spicy bbq pork) or Yangnyeom-tondak (spicy chicken wings)
Japchae (sweet potato noodle salad)
Mandu (korean dumplings)
Hobak-jeon (zucchini fritters)
Bindae-tteok (mung bean pancakes)
Dongtae-jeon (pollock pancakes)
Kimchi (there were always at least 2-3 varieties of kimchi on the table)
Dotorimuk (acorn jelly side dish)
Oi-muchim (cucumber side dish)
Shigeumchi-namul (spinach side dish)
Kong-namul (soybean sprout side dish)
Mu-saengchu (spicy radish side dish)
Gamja-jorim (braised potato side dish)
Gosari-namul (fernbrake side dish)
Gimbap (korean style sushi roll)
Rice
Tteok (rice cake dessert)
Fresh fruit platter
There were always several main type dishes and then numerous amounts of different sides depending on the seasonality. As you can imagine, the cooking started days before the party.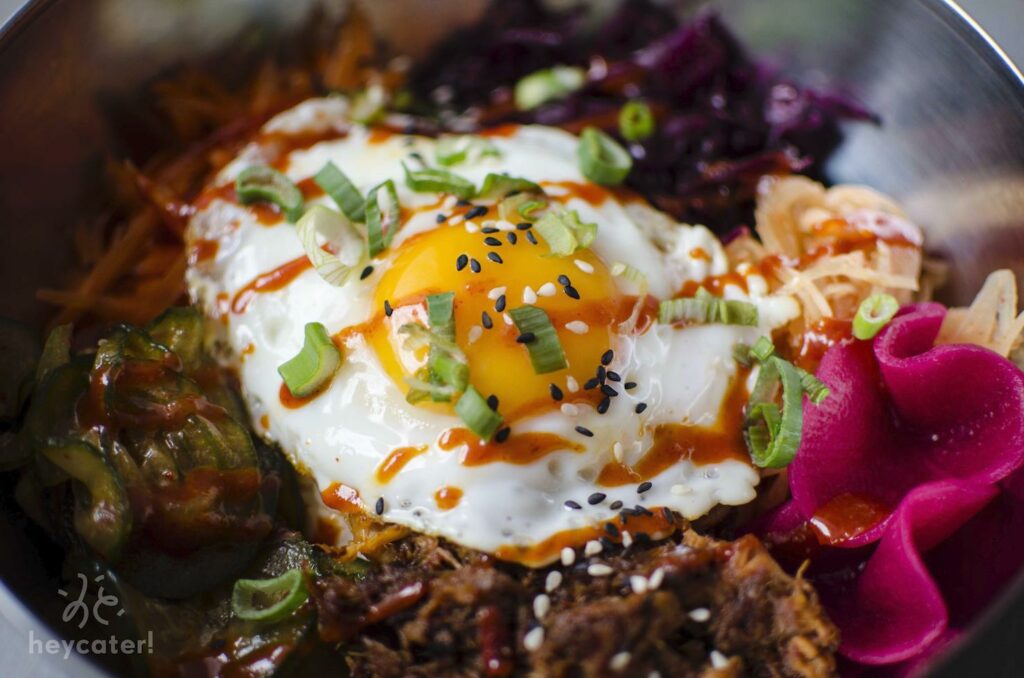 Do you have a Korean comfort food? Which one is it?
Kimchi-chijae. Its a hot stew made of old fermented kimchi and pork. Its the one dish that I missed the most when I moved to Berlin and the reason why I started making so much kimchi and created the path to Fräulein Kimchi.
Did you also have an experience on a cooking show for German TV, right? Can you tell me more about it?
In 2015 we were asked to take part of Restaurant Startup. It was a reality show where we "created" a restaurant in 3 days and the best concept won a prize. It was a fun experience, but I realised most of it was produced to create drama behind the scenes. For example, despite telling the producers that we needed a minimum full day to prepare and cook our food to open as a restaurant, especially making the kimchi early enough so that it could ferment and slow cooking our meats which took 7-8 hours, we didn't receive any of our ingredients until 4 hours before our restaurant "opened"! We would have been left serving no food at all if I didn't run back to my catering kitchen and grab all the food we had prepared for our next market. We ended up winning the show but later decided to decline on the investment prize since the conditions were not very favourable for us. They wanted to own 25% of my business for perpetuity just to give me a 65,000 eur loan which I had to pay back at 10% interest! I think they were shocked when I turned them down, but it doesn't take a lot of business savvy to realise that was not a good deal for me at all. lol. We did have fun though and it ended up being a nice marketing tool as we had people coming to our food stand all over Germany after watching the show. I was also on a variety of other cooking shows which would feature my Ramenburger as part of their street food series and at one point in time I really wanted to have my own travel and cooking show. Who knows, maybe I will finally start my own cooking blog this year and try to get someone interested in producing it for a network.
Germany and Italy too are going through a light lockdown again. This means reducing opening times of bars and restaurants (among other businesses). How the current Covid emergency affected your business and how are you dealing with it? Did restaurants and food businesses receive government support?
When the first lockdown happened in March, I lost almost 90% of my business from one day to the next. It was a very scary moment. Since the majority of my business is B2B with office catering and parties being the bulk of my revenue I was really terrified of what the lockdown would mean since almost all the offices went into home office and canceled all their contracts. I jumped on the idea of doing home delivery directly to customers as a way to generate some revenue that was lost from my business catering and also to reconnect directly with customers, which was how I started when I was just a food stall and that really helped us survive the months of March-May. Since then we have started doing food markets again with our food truck which worked out well during the summer months and now that it is cold again we have started up with our home delivery service which has been running well. Although there have been some good government aid I have not qualified for most of it as a catering business but luckily until now I have not needed it. We are trying to be strategic for the next few months and create some new ways to grow our business within a delivery model using services like Wolt and Lieferando and if businesses open up again by next spring/summer, we are planning on opening up our guest room in our production kitchen as a weekend brunch and bar concept and cooking class venue.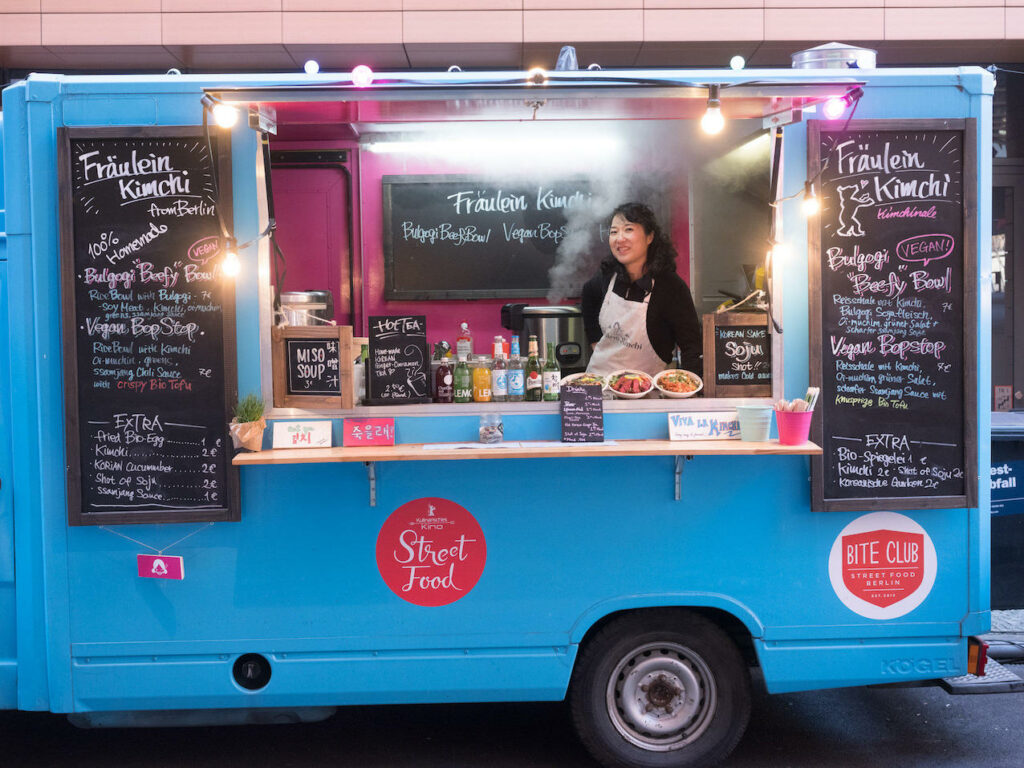 Korean food has gained popularity over the last few years, and words like kimchi, ramyeon etc are well known. Korean government has been promoting Hansik a lot, with festivals and fairs etc. However, Korean food is still lacking behind in terms of popularity to other asian cuisines. In which way do you think Korean food can become more known among people?
I think Korean food has come a long ways in the past decade. Considering very few people knew what kimchi was when I first started Fräulein Kimchi in 2009 and now it is a staple on so many menus, I think the rest of Korean cuisine will follow as people become accustomed to the food. In Europe, Korean food isn't as widely known as Chinese/Thai or Vietnamese because there has not been the same levels of immigration and most restaurants seem to fall under a generic "Asian Imbiss" with bland curries and noodles, but I do notice that slowly Korean food is making its mark in countries that didn't have any Korean food years ago. The last time I was in Barcelona, there was a Korean food stall at the Mercat de la Boqueria which wasn't there before and in Valencia I found 2 Korean restaurants in the city centre which was exciting. And in Paris there is a Michelin start Korean-French restaurant which is doing some exciting things. Korean food is obviously better known now in the US because there have been several high profile Korean chef's that have paved the way, such as David Chang and Edward Lee. I think if there were a similar well known celebrity type Korean chef in Europe, it would help make Korean food more popular here overall. Maybe I will need to work on becoming a celebrity chef!
What are your plans for the coming years?
For now, I am just planning on weathering the rest of the Covid storm as best as we can, but some long term plans are to find a small restaurant space again and revamp my original idea of creating a small chain of high quality Korean takeaway food. I am also going to spend the next few months creating some video content for online cooking classes and a YouTube channel. And another lesson of Covid has been to have several streams of revenue for when one part of your business is adversely impacted so another long term project is to create some products that we can sell in supermarkets and small food shops in case our catering branch does not recover or we have another crisis like Covid in the future. Aside from my business plans, I also would like to take some time off when its able to travel again and take some cooking classes in Italy and Spain and get some fresh ideas and inspiration.