Today we sat down with Sun An, the CEO and founder of the 'Seoul Sisters' brand. Her company Food Culture Lab has developed the innovative "Kimchi seasoning mix", a vegan kimchi flavoured dressing soon to be launched in Europe.
"Back in 2010, I started a food business in the Philippines; I sold Korean food called Tteokbokki (spicy rice cake and fish cake) with my younger sister (Kimberly An) and that's how people started calling us Seoul Sisters. " says Sun An.
How did you start your experience in the food business?
In 2008, when I was in my second year in college, I accidentally went to the Philippines and lived there for about a year. During that time, it was when Korean food (K-Food) and Korean pop (K-Pop) were starting to become popular in Asia. Through this, I saw a business opportunity and decided to sell Tteokbokki (spicy rice cake and fish cake) in one of the many Philippine night markets with my younger sister in 2010. We, who started without any experience in the food business, struggled a lot in the beginning. Nevertheless, nothing made us happier than seeing our customers enjoy our food. Not only this but we also found the meaning of life. Since then, we've continued doing food-related business.
What have you learned from your life abroad while working and living in the Philippines?
At that time, I learned about international business attitudes since I was in a different country and not my home country. I was born and raised in Korea and didn't know much about international business manners and methods. Doing business in the Philippines taught me how to become a leader, how to communicate with people in different languages, how to share visions with a team, and how to work based on trust and responsibility
How is the perception about Korean food abroad in your opinion and what are the strategies that should be taken to increase its popularity?
When I first started doing Korean food-related businesses in 2010, only a few people bought or enjoyed Korean food even if there is an interest in K-pop and Korean Culture. Fortunately, during the past 10 years, the K-Food market has positively grown.
In the past, there were a lot of people (specifically non-Koreans) who hated the smell of kimchi but, nowadays, there are more and more people who deliberately find it or make it at home. However, the market was also fiercely competitive so, to adapt to this competitive market, we had to look beyond the Korean cuisine and started to understand the local culture, religion, and the natural environment of the market we are aiming to sell to. It is also helpful for Korean food businesses to incorporate global trends such as veganism and environmental protection.
How did you come up with the idea of kimchi seasoning?
Having had Korean food-related business experience overseas for 10 years, I had a hard time exporting Korean food due to issues such as shelf life, management issues, temperature issues, and odor issues. Although the popularity and demand for kimchi are exploding worldwide every year, it is unlikely that the demand will be met unless the original problem of kimchi is resolved which is that it is very difficult to export it worldwide due to storage problems. Still, the popularity of Korean spicy food and spicy flavors is continuously growing worldwide so I decided to develop a new form of kimchi that contains only the good qualities of the traditional kimchi which then become our first product, Kimchi Seasoning.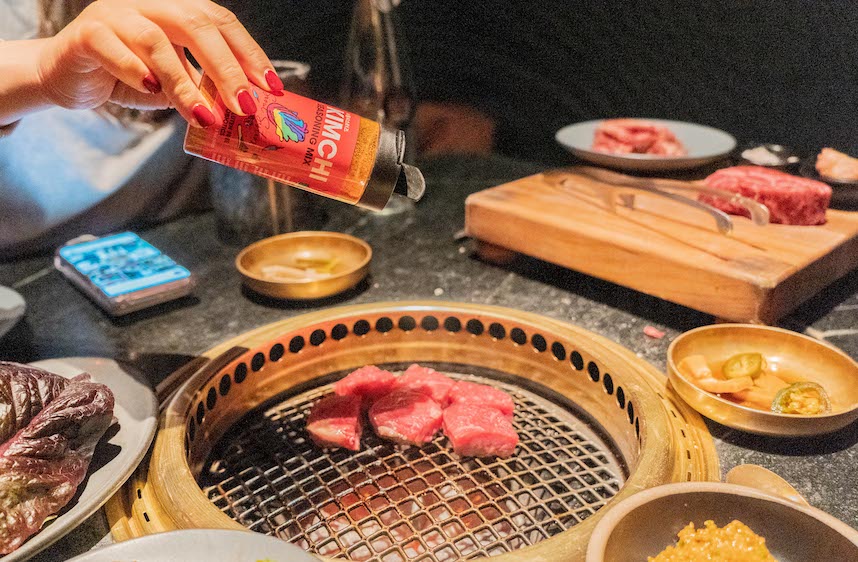 What do you enjoy the most of your job? how is your typical working day look like?
I'm the type of person who loves working – I love my job so much and am addicted to it thus I work over 12 hours per day and work even on weekends. Being in the food industry is tricky as we need to handle all our products with care and food production may sometimes be very difficult. Nonetheless, when I hear and see customers say they love and enjoy our brand and products, it motivates me to work harder and I become the happiest in the world. In short, I am a workaholic. Haha!
How is the food industry in Korea in your opinion? Is there a lot of innovation?
The Korean food industry has changed considerably because of various health/disease issues such as COVID-19. The industry prefers local ingredients over imported ones and is starting to look into how they are made, where they are made, and who made them. Also, they have great respect for the primary producers who make or cultivate raw materials. Because of this, I see more purchases made directly to the producers rather than to the offline supermarkets. Even if it costs more by doing this, they would rather buy products that are good for your body and health. They also pay great attention to the word 'vegan' or to the products who follow the vegan environmental movement, which I couldn't recognize until last year.
Why did you decide to make a vegan seasoning?
I think there should be no restrictions on eating food deliciously. Whether it's a religious reason, an inevitable choice, or a choice you've made, we wanted to help anyone in any country to eat happily and enjoy food themselves. In the beginning, it was a very difficult process and it was also the first time to challenge making vegan kimchi seasoning but we manage to push through and develop it because our target isn't vegans but to everyone as we believe that we all need to listen and protect our natural environment and our health. We can still eat food but we must be aware of where and how it was made
Which projects are you working on with Food Culture Lab?
First of all, our company's vision is to bring a healthy and sustainable lifestyle based on Korean food to the rest of the world. So, we developed a vegan kimchi seasoning (based on lactic acid bacteria from kimchi), which we had already launched, and we are currently doing research and development on healthy beverages and protein replacement food
Will the kimchi seasoning be available in Europe soon?
Yes, we are aiming to advance into the European food market at the beginning of the second half this year or early next year. We are already talking with companies based in France and Germany. In Europe, interest in improving immunity through natural food has been increasing in recent years and we believed that, because of this, interest in Korean food, especially kimchi and fermented food, is increasing. We are also responding very quickly and are currently preparing for this advance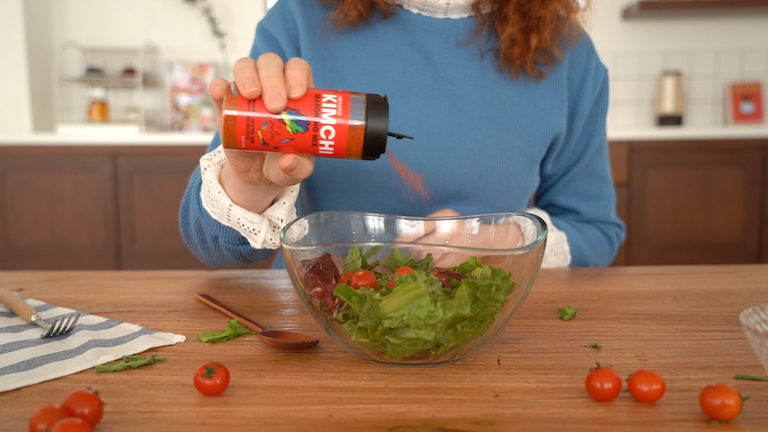 Could you give us a recipe using the kimchi seasoning?
The world's first-ever vegan Kimchi Seasoning Mix wants to invite all foodies to try their naturally fermented tangy spice that can go with pretty much any food you like. Try it on pizza, fried chicken, popcorn, your favorite meat substitute, or vegetables. Simply add a sprinkle of 'Kimchi Seasoning Mix' on whichever food you want to get that tangy spicy flavor you've been missing. Kimchi Seasoning is proudly 100% vegan, plant-based, gluten-free, non-GMO, rich in probiotics, has less sodium than regular kimchi, and has no artificial colors or flavors. Healthy food no longer needs to compromise good taste!