Today we met with Han Yeongyong, Head Chef and owner of  Keungiwajip, a one-Michelin star restaurant specialized in a delicious crab dish called Ganjang gejang (간장게장).
Opened by his family more than 30 years ago, in this restaurant they take special pride in offering only the freshest and local crustaceans, and in their special soy sauce fermented for more than 10 years.
We sat down with the chef in his studio in the back of his restaurant – traditional Korean music playing in the background with a hot cup of tea to start the conversation.
How did you become interested in food and became a chef?
"My family is in the restaurant business from more that 40 years and we owned a restaurant in Mokpo (South-West of Korea). Since an early age I learned cooking from my grandmother and my mother and started studying as chef when I was 16. In 1977 we moved to Seoul and opened this restaurant. I became a professional chef in 1987 and decided to set up goals to achieve in 10 years
Since then I have worked in this restaurant and on many different projects: wrote a cook book "How to cook Hansik in 100 ways", published when I was 28 years old and worked with government on the globalization of Korean food promoting Hansik during many events – Like Olympics Games of 1988 that were held in Seoul."
We move to the table where our lunch was prepared for us – many dishes arranged in front of us – at the center of the table the delicious cured crab.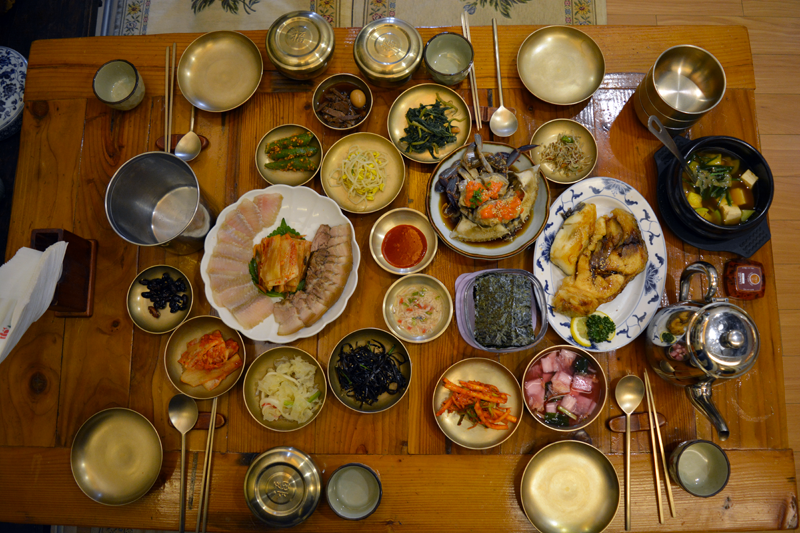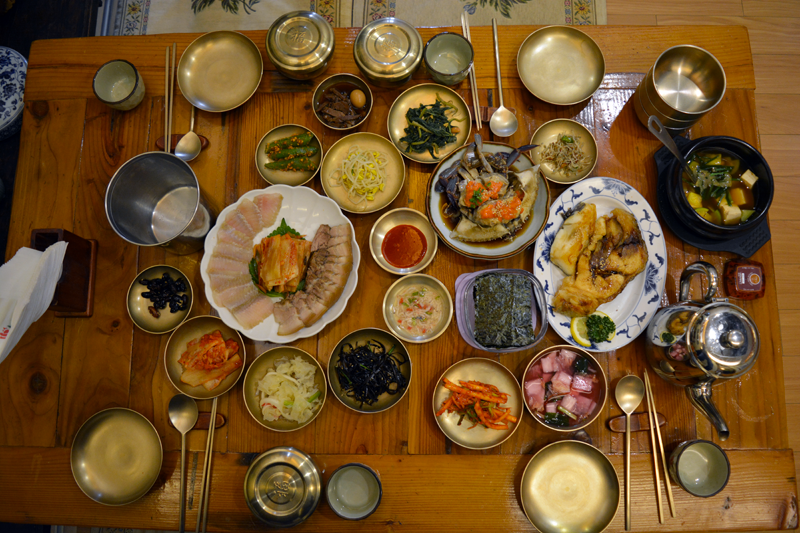 Our conversation resumes on the proper way of eating Korean food and appreciate our meal. The chef explains how we should eat Korean food in order to enjoy the meal at its best.
"First thing is to smell and taste the rice. Rice (bap) is a staple of Korean cuisine and we should think and appreciate the meal we are about to consume.
Second step is tasting the soybean paste soup (dwenjang guk). In our restaurant we use few ingredients and the taste is very clean.
Next step is to taste the kim (sea weed) and appreciate the sea flavors it has. Then taste the broth made with soy sauce used to cure the crab. Lastly, taste the kimchi – this is a 3 years old kimchi made here in our restaurant.
One of the peculiar aspect of Hansik is that during a Korean meal the dishes are served all together  so when preparing a meal the chef always have to think about the balance of the whole meal.  Rice, soup and banchan (side dishes) all have to balance each other.
Not only that. In Western cuisine dishes are served in courses and each persone get their own dish. In Korean this doesn't happen and all dishes are shared. That's why we also have to consider the other people we share the meal with when eating Korean food: how much I am going to eat, how will I pick up the food or cut it so the next person would be able to eat easily and pick their food comfortably.
At the end of the meal, if there are leftovers you have to collect them so will be easier for the waiting stuff to pick it up. This is also part of good table manner in Korea."
You worked on globalization of Korean food before. What in your opinion should be promoted about Korean food? In Italy Korean food is not popular yet if compared to other Asian cuisines.
"Japanese food is a good example of successful globalization but Korean food is still lacking behind. When foreigners think about Korean food they only know few dishes like bibimbap, japchae or tteokpokki.
Raw fish and rice are often consumed in Asian countries and for Japan they have become representative dishes of their cuisine.
Also in Korea we eat raw fish and eat it with rice so I think dishes like Ganjang gejang (marinated crab), that we enjoy together with rice could be representative of Korean food. We use soy sauce, that is a fermented product. Another characteristic of Korean food is the use of fermented products. So also this makes marinated crab a good choice as a representative food"
I think Japanese food is a bit more approachable, less spicy, and has milder flavors compared to Korean Food.
"Yes, this is another issue. Korean restaurants abroad, especially in Europe, don't use original ingredients and don't adapt their dishes to Western palate. I think the Korean food can become popular as Italian food and from the food people could learn about our culture.
When did you get the Michelin star? Achieving the Michelin star changed something for you? 
"We were awarded a Michelin star last year. This hasn't changed anything of how we prepare our food but we have noticed a change in our costumers. We started having more foreign costumers from Asia and Western countries than before."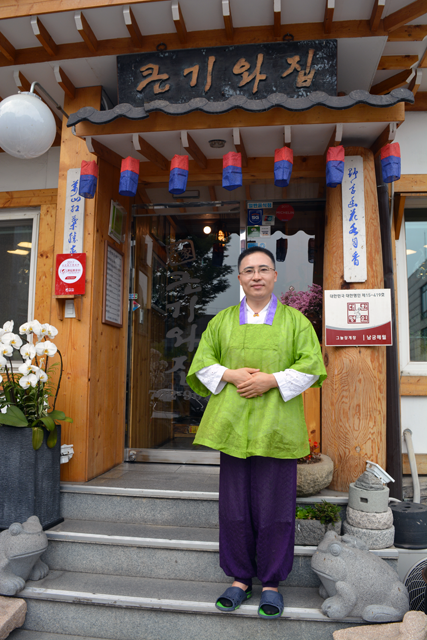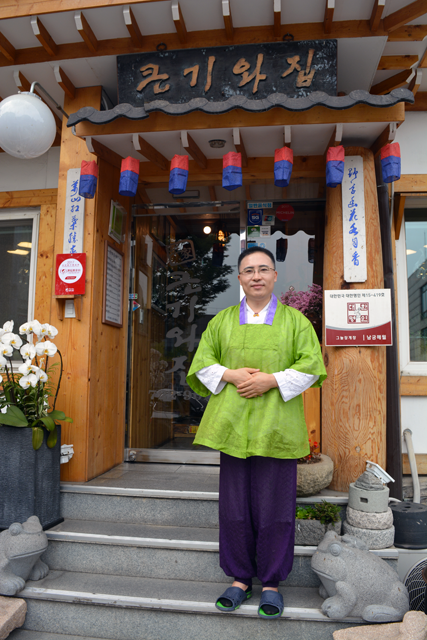 What is the achievement for the next 10 years?
"I think that for contributing to the globalization of Korean food it's important to find a good spirit to match the food. (TN: Korean word for food is  "음식" – 음means drink and 식 means food). I want to research on this topic and make a Korean fine wine that could accompany our food. In other countries when ordering food you also choose drink to go with the food (wine) but in Korea they don't take matching drink with food too seriously, mostly only soju and makgeolli. But both of these spirit are usually cheap alcohol and not fine spirits. So my plan for next ten years is to study more about fine wine and spirits and want to find a fine Korean wine to match with Korean food.
We have some different spirits in Korea like Plum wine, Raspberry wine and others that are considered yakju – medicinal spirits. But I want to create something specific to match the taste of food and that would be easier for foreigners to drink and at the same time could be representative of Korean culture and food traditions. For example in other Asian countries they have wines. China for example has Kaoliang wine, and in Japan they have Sake. In Korea soju has lower quality and cannot be regard as masterpiece piece (명품)."
Did your college studies in fermentation helped in your work at the restaurant?
"Before started studying fermentation at school, I learned to prepare kimchi before, but I never thought about why we have to prepare it in a certain way.  After my college studies I understood the essence and the chemistry of preparing kimchi. My background in fermentation studies will also help me in my other future plan:  I thinks ganjang (soy sauce) is also very important  and I want to develop a new type of soy sauce that could bring the flavor of the crab. Fermentation is a representative characteristic of Korean food and that's why a representative dish should include soy sauce as well."
Keungiwajip is one of the first Korean restaurant being awarded a Michelin star in Korea.  Their family tradition and consistency of the recipe have made their signature dish one of the best you can enjoy for the price range (around 50,000 won per person). A good opportunity to taste a delicious dish in a comfortable atmosphere.
Chatting with chef Han Yeongyong was really interesting, and I learned more about the proper etiquette when eating Korean food. Considering the others is something that defines Korean culture and you should keep in mind when enjoying a meal with somebody.
Restaurant Keungiwajip 
Address: 62 Buckchon-ro 5-gil, Jongno-gu
(special thanks to the interpreter Chinghan Hsu)