Hello everybody!
Today we will a simple and delicious dish and that can be prepared in a short time. Ideal for a quick and healthy lunch. Steamed eggs are a home cooking dish of Korean cuisine and can be prepared using tofu, or for meat lovers, with ham.
For 2 people we will need:
3 eggs
1 green onion
1 carrot
1 ts of salt
sesame oil or olive oil
black pepper
5 oz (150 grams) of firm tofu (same amount of ham if you want a non-vegetarian version)
7 oz (around 200 ml) of water
Directions
Clean,rinse and dry all vegetables
Thinly chop green onion and carrot
Crumble the tofu using your hands
Break the uova in a bowl and add the vegetables, tofu, a ts of salt and a pinch of black pepper. Mix for a few seconds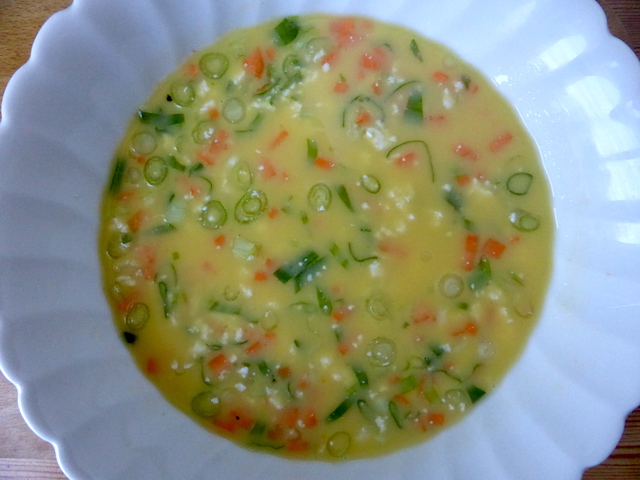 Grease the inside surface of the pot with sesame oil using a brush. This will make sure our eggs don't stick to the pan too much. Put the pot on the stove and pre-heat it on low heat. Best is to use and earthenware pot, but a normal metal pot can be used too. We used a Korean Ttukbaegi
Pour the mix into the pot and let it cook on medium heat. When the eggs will start sizzling, switch off the stove and cover the pot with the lid for 5 minutes. This will give our eggs a nice fluffy texture.
Usually in Korea the steamed eggs are served directly in the same pot where they cooked and shared between the people. Take your spoon and start to dig in!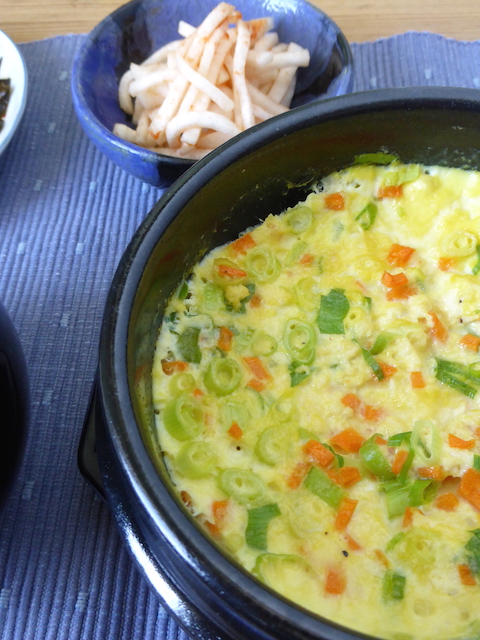 We served Dubu gyeranjjim  with steamed rice and two banchan (side dishes) radish kimchi and sesame leaves with spicy sauce.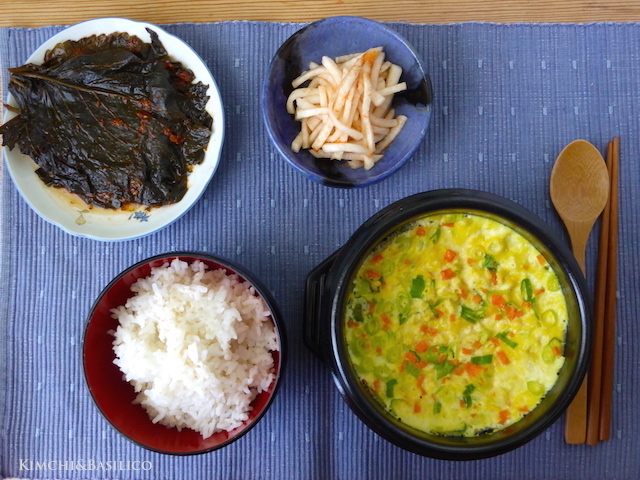 Buon appetito!