Today we will give a rice porridge recipe. A delicious tuna rice porridge is available here
What comes in your mind when you think about rice porridge?
Many people when they think about rice porridge, they see it as a comfort food for someone who is sick or for elderly people.  In some countries, like US, rice porridge is comparable to chicken soup or in  Italy it is comparable to a vegetable broth that it is usually eaten when feeling sick or having stomach ache.
In Korea I have discovered that this way of consuming rice porridge as a meal for recovering from sickness is somehow reductive, since as I will explain, Korean cuisine has brought the rice porridge to another level in terms of flavors and nutritional  characteristics.
In Korea is common for everybody to have rice porridge (Juk – 죽 )  like an everyday meal. Apart from simple rice porridge made of just water and rice, people have modified the original recipe by adding many different ingredients to it. It is common to find porridge cooked with vegetables, chicken, beef, seafood, cheese, abalone, mushrooms or many other different ingredients even less traditional like cheese or curry . More traditional tastes include pine nuts, ginseng, black sesame, bean sprout and sweet pumpkin.
A lot of chain restaurants have been open that have only juk  in their menu. I had lunch in one of these restaurants – Bon Juk 본죽 in Hongdae (Seoul) and ordered a tuna vegetable porridge.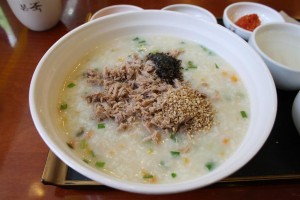 The dish was served with several side dishes (as always in Korea): chilli sesame paste, cabbage kimchi, pickled sliced beef (delicious) and a cold and watery clean soup made with radish.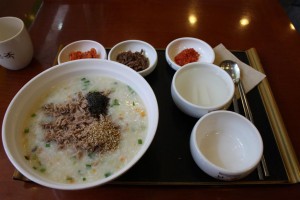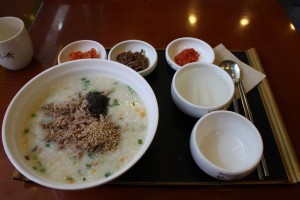 The dish was delicious with a smooth texture and many flavors thanks to the vegetables in it and the tuna. The mixture of the flavors in this dish and its nutritional values make juk  the ideal meal if you want to have some tasty but healthy food or to simply recover from your hangover.
This idea of adding so many nice ingredients to a simple plain dish like porridge makes me wondering why we never thought about it in the Western cuisine. Thinking of a juk version with an Italian touch, I was imagining a rice porridge using as ingredients a traditional green leaf broccoli typical of my hometown and cod. I definitely have to try cooking this dish soon!
Nowadays in Korea there are many restaurants serving juk and some food chain like the one I visited are specialized in rice porridge. The interior of these restaurants are similar: a quiet and relaxed atmosphere where to spend your lunch break, or in my case, a hot and humid sunny morning.
For the recipe of tuna porridge click here
I propose you also a recipe for a traditional pumpkin porridge, try it out and let me know the result :).
Pumpkin porridge – Hobakjuk (호박죽)

This dish is a typical Korean dish. In the traditional recipe, the main ingredient is butternut squash or sweet pumpkin. It is a very healthy dish and it's perfect for cold winter days.
Ingredients for 4 people:
1/2 of a pumpkin or 3 butternut squash
1/2 cup sweet red beans
1 cup soaked rice (or rice cakes)
6 cups of water for the pumpkin
2 cups of water for the red beans
salt
Instructions:
wash and peel the pumpkin, then chop it
in the meantime boil the red beans in 2 cups of water
In a pot, add pumpkin, water and rice and cook for 30 minutes and stir often.
After 30 minutes the pumpkin will be mashed. At this point you can add the red beans
Stir for 3 minutes at low temperature and and salt
Serve hot!