Hello everybody!
Today we will talk about Jjimdak (찜닭) a popular chicken dish prepared with vegetables, green and red chili peppers and glass noodles.
I went together with a friend of mine to the restaurant Bongchu Jjimdak (봉추찜닭) in Seoul. The restaurant was open few years ago and it serves braised chicken prepared in the local style of Andong in the Gyeongsangbuk-do Province. As of now, many other restaurants have open throughout the country under the same brand name.
The one we visited is in Hongdae and this confirms once more time how in this area of Seoul it's possible to find many different kind of restaurants to satisfy your appetite.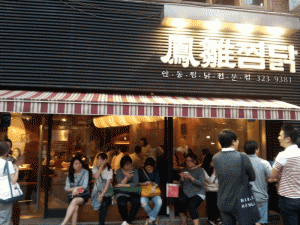 The restaurant was very busy and we had to queue for about 20 minutes to get in, but my friend assured me it was worth waiting. And as I would have realized later, she was absolutely right!
This restaurant is specialized and serves only Jjimdak with two options: half chicken or a whole one. We ordered the half chicken version and waited impatiently.
As most of the Korean restaurants, service was very quick and we were served after only 15 minutes. The Jjimdak was served very hot and came together with a clean radish soup on the side.
This dish was prepared with chicken, cooked with a sauce made with water, soy sauce, chili peppers and garlic and brought to boil. Then other vegetables were added: carrots, onion, potato, mushrooms and spring onion. The glass noodles were added last, and the mix was cooked until the liquid was reduced. The last step was to add corn syrup, sesame oil and sesame seeds.
The Jjimdak was quite spicy and if you can't really handle it (i am thinking about some friends of mine in particular!) the spiciness can be reduced by removing the chili peppers as soon as the dish is served (we did it and we could enjoy the dish much more after that!). The long potato noodles had to be cut using the scissors provided: this made it easier to serve portions on your individual small plate.
This dish had a great mixture of flavor and the taste was very rich as it contained many different ingredients. The spiciness, saltiness and sweetness in the dish were well balanced and the different textures found in this dish (especially the potato and chicken) were a pleasure for the palate.
Upon request, we got some rice and mixed it with the remaining sauce to enjoy everything of this dish.
This was one of the best chicken dishes I have tried so far in Korea and I will definitely come back here some other time. I suggest you to visit this place if you are around Hondgae or visit other Bongchu restaurants across Seoul.
The official website of Bongchu is http://www.bongchu.com/ and the address of the restaurant is: 봉추찜닭 – 361-8 Seogyo-dong (17 Wausan-ro 18-gil))
Stay tuned for the next tasty experience!