Eggplant is a widely used vegetable in Korea and it's typical of Autumn season. Being one of my favorite ingredient (we use it a lot as well in Italian cuisine), I decide to prepare a eggplant kimchi for the coming autumn.
Ingredients ( 4 people)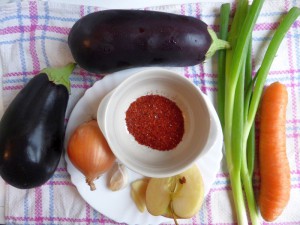 – 2 eggplants
– 1 spring onion
– 1 carrot
– 1 garlic clove
– a small piece of ginger
– half red apple
For the sauce:
– 1 tbs ( or more if you want it spicier) of chili powder
– 2  tbs of fish sauce
Instructions
– Boil 1 liter of water  and add 1/2 tbs of sea salt
– Parboil the eggplants (whole) for about 5 min
– While eggplant cook in the pot, let's prepare the other ingredients: Slice thinly the carrot, the apple and ginger. Chop spring onion and garlic and put all the ingredients in a big bowl. And add chili powder and fish sauce and mix all.
– After the eggplants are parboiled, let them cool a bit and cut them in 3-4 mm thick slices (less than 0.2 inches)
– Squeeze the eggplant slices gently to discard the liquid in excess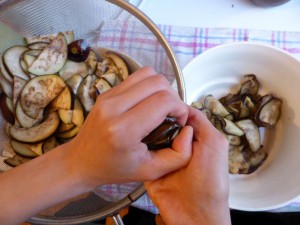 – Add the eggplant slices to the bowl and mix well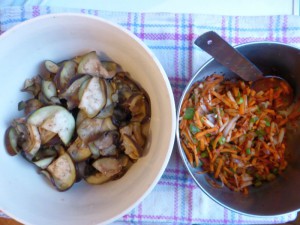 – This step is crucial, since we need the fermentation process to start: Cover the bowl with a plastic wrap and leave the bowl at room temperature for about 8 hours (you can prepare the kimchi in the evening and let it rest overnight)
– After the 8 hours, move the kimchi in a food container and keep it in the fridge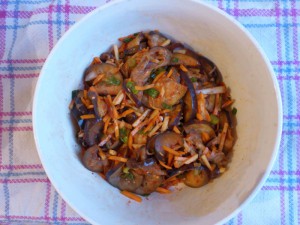 This kimchi can be served as delicious side dish for rice but is a good match also for meat and fish dishes.
Enjoy!
V