I have recently moved to Berlin and with Germany being one of the most multicultural countries of Europe, it also has the second biggest Korean community in Europe after United Kingdom, estimating more than 50,000 individuals with Korean roots.
Interested by the topic, I decided to learn more and started looking for the background of this immigration from Korea to Germany. What I started to discover is a long relationship history between the two countries, dating back to more than 60 yeas ago.
After the Korean war, Korea was a a poor country, still dealing with the hard consequences of the conflict. Korean Government at that time, saw an opportunity to improve the economic situation by introducing foreign currency through immigrants in foreign countries. This was one of the actions that president Park (who acquired the power by a coup d' etate in 1961) took in order give a boost to the Korean economy. On the other hand, many young people saw in the immigration a chance to escape from the poverty in their home land.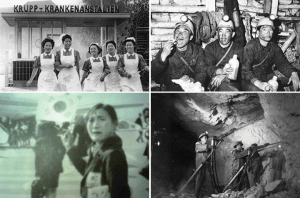 Officially the Korean immigration to Germany started in the 1963, with the creation of a government labor exchange named "Program for Temporary Employment of Korean Miners in West German Coal Mining" aiming to provide workers for the German mining industry, located in the Ruhr region of west Germany. Due to shortage of nurses in German hospitals, starting from 1966, thousands of professionals immigrated to Germany and started working in hospitals and clinics all over the country.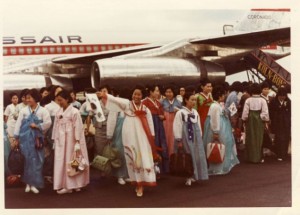 These exchange programs had a short term validity (usually 2 or 3 years) and after the expiration of these contract, immigrants would have come back to Korea. Even if many immigrants went back to Korea (bringing back with them wives and children), other immigrants found a way to move to US (where a more relaxed immigration program was in place at that time), while people who wanted to stay in Germany, had hard time, and at the beginning of the '70s protests arise from Korean immigrants claiming their rights after contributing with their hard work to the Germany economy and healthcare system. After years of struggle, the West Germany government ensured long term permits to live and work in the country.  In these period, thanks also to the efforts of Korean immigrants, the first organizations defending the rights of the immigrants started to be created.
Since that period, the two nations have tied a close relationship and cultural, economic and diplomatic cooperation continue. If you are in Berlin, a good starting point to learn more about this topic, or about Korea in general, is the Korean cultural center (http://www.kulturkorea.org/de/)  in Leipziger Platz (metro U1 – Postdamer Platz).  The center has a library and regularly exhibitions, workshops annd language courses are held. Every Wednesday there is also a movie event, where is possible to watch both classics and blockbuster Korean movies.
This history of Korean immigration is very interesting, and I tend to consider it as another point of connection between Korea and Italy, considering the history of immigration of Italian people over the centuries.
I have been lucky enough to meet here in Berlin, some of the Korean people who moved to Germany during the '60s and '70s, and hope to organize an interview with them soon to learn more about their stories and share them with you.