In the last couple of years I got more and more interested in Korean food culture and my research allowed me to discover a lot of interesting facts of Korean cuisine, such as its philosophy and principles.  Studying its base ingredients, recipes, rituals and traditions was also a way to discover more about Korea in general. Surprisingly I found out that Korean food culture and my home country one (Italy) have in common some characteristics, such as the value of  family bonds, the social importance of sharing a meal and the healthy ingredients used. These are, I believe, some of the reasons why I feel very interested and fascinated by Korea and at the same time very comfortable every time I am there.
Similarly as Johanna did in her post about Korean language books, I would like to share with you some of the books I have read on Korean cuisine that helped me for my research.
I would also like to hear from you which Korean food books have you read and liked.
Korean Food, The Originality & Korean Food, The Impression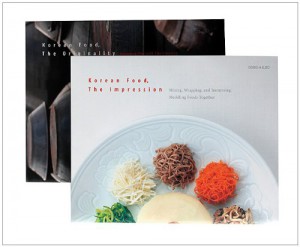 This is a set of two books edited by Dong-A Ilbo, a Korean national daily. The two volumes "The originality" and "the impressions" focus on different aspects of Korean cuisine: while the first gives an insight in some of the fundamentals principles of Korean food culture, such as its philosophy, ingredients and traditions, "The impressions" focuses on the preparation of the dishes and includes mouth watering closeups. Although a bit pricey, this set of volumes is a good opportunity to learn a lot about Korean food culture and both books have a clean and elegant layout.
Korean Cuisine: An Illustrated History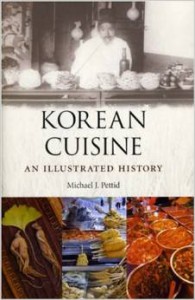 Published in 2008, this book from Michael J. Pettid offers good insight about Korean food, explaining in a detailed manner how Korean history, geography and culture are strictly connected to the cuisine and how the Korean food has evolved together with the country. The book includes also many pictures (not studio pictures) of a wide array of dishes but the recipe section at the end of the volume lacks the visual appeal for people to try them out. This is definitely a volume intend to provide information and background about Korean food and explains in a detailed manner how in the Korean culture food has a crucial role and how culture, history and food have shaped the food culture over the centuries.
Korean cuisine – A cultural Journey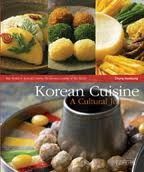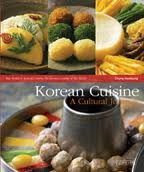 Edited by the Korea foundation, this book transmits very well the importance of food in the Korean culture.  In a way easy understandable by foreigners,  this volume provides a great overview of Korean food illustrating its traditions, food preparation and production. Food is definitely an heritage of Korea and this book (translated in many languages) is a good starting point for learning more about Korea.  The recipe section is wide, with a lot of different dishes to choose, from home to royal food, from vegetable to meat and fish dishes.
A Korean Mother's Cooking Notes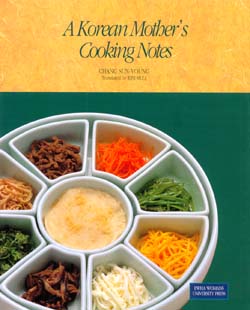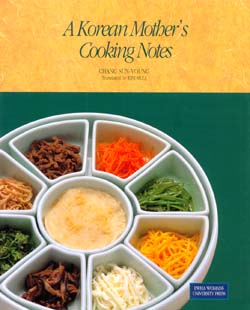 Sun-young Chang is a Korean expat who has lived abroad for many years (in US and The Philippines) before coming back to Korea.  During the time abroad she developed a deep interest in Korean cuisine and started collecting all the recipes she was cooking for her family in this book, as a present for her daughter-in-laws. This volume is full of delicious recipes and most of them can be prepared with few ingredients.  Recipes are divided in basic categories and are explained step by step in a clear manner. A book to have if you are interested in Korean home cooking. 
Cooking Korean Food With Maangchi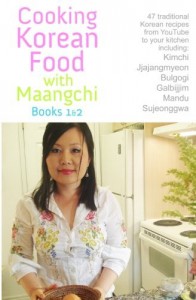 Maangchi is probably one of the most famous Korean chef on the web and her website it's visited by thousands of people everyday.  Her videos are well produced and she puts a lot of energy and enthusiasm in doing what she loves, and she is very good at it! The book, published in 2012, contains a lot of recipe with great pictures, and each dish is explained step by step in a clear and enjoyable manner.