Dosirak (도시락) are characteristic Korean lunchboxes that include a full meal, including rice, soup, meat or fish and side dishes (banchan). These complete and nutritious lunchboxes are usually prepared by mothers for their children or their partners.
These lunchboxes are also a symbol, a demonstration of affection towards loved ones, prepared with care and dedication.
Chef Ye Yun Seok opened dosirak company Dream Eat with the idea of ​​making his customers relive happy memories related to food.
Tell us a bit about yourself, your experience and your passion for Korean food
My name is Ye Yun Seok. But people usually call me by my nickname "Beaver". I have this nickname since I was in middle school. The reason is simple, is because i looked a bit like a beaver.
I have recently turned 30 years old, so I have been called Beaver for more than 16 years. I am a chef and now I run my own business.
Even if I can't pinpoint the time i started being interested in food, I grew up in an environment where I could experience a big variety of foods more than other kids. My mother in fact majored in food science.
Since a young age I was able to prepare simple food, such as tteokbokki and kimchi fried rice. I have been able to make them myself since I was seven years old. My teacher was also my closest friend: my mother. Since then, naturally my passion for food has been part of me, and it still is.
Lunch box is a neutral term while dosirak is so meaningful. Some people reconnect themselves to the past through dosirak, it reminds them of when they were kids. What does dosirak mean to you? Would you like to share your memories about?
In school days, meals were generally served in schools. When going on a picnic or a group outing, everyone had to bring their own lunch box.
My lunch box made by my mother, who majored in food science, was always much nicer and healthier than the ones of other friends.
Most of their lunchboxes included kimbap, with/without fried tofu rice balls.
My lunch box wasn't a single box but a multi-column lunch box that looked like a course meal, and even included desserts such as cookies. Every time I was a superstar in my class. In those moments, thanks to my mum's dedication and the love she put in preparing my lunchboxes, I felt very proud not only of the dishes but also of my family, and myself.
The satisfaction and happiness I felt with those lunch boxes were great.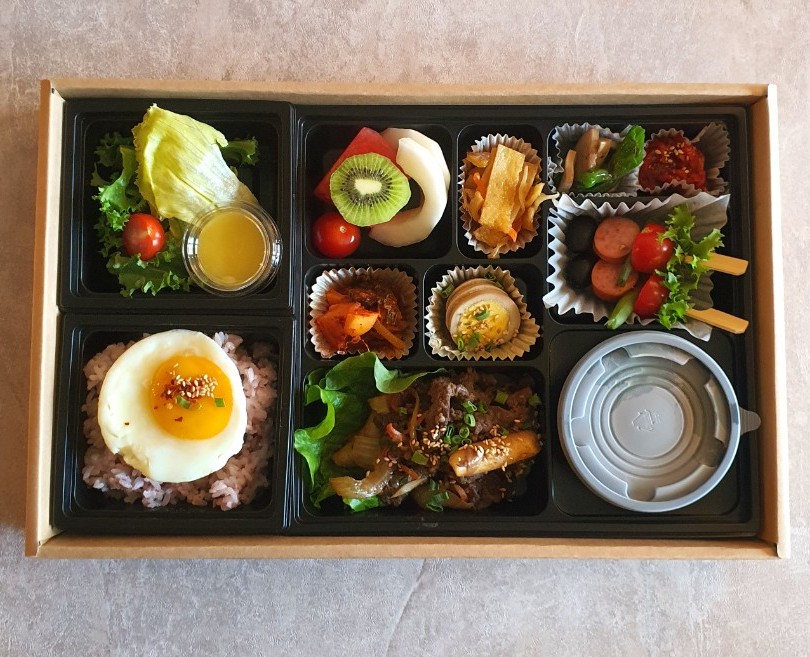 Your dosirak taste delicious but also are gorgeous to the eyes. Aesthetic criteria are just as important as flavours? How do you find the right balance?
First of all, thank you for looking at my lunch boxes and asking me this question. Lunch box should be considered for its food and the most important and essential factor in food is taste.
Along with the taste, the things I wanted to put in the lunch box are memories and nostalgia.
Nowadays, as people grow up, they often eat out or eat simple meals even when they are at home. For this reason, lunch boxes are also found and purchased for easy and quick eating in convenience stores.
I wanted to put as much of the feeling of eating at home in the lunch box as I could. The selection of menu, ingredients and flavours has the priority.
What makes it look great is the garnish that goes on top, the harmony of colours in the finished product.
When putting garnish, I also choose fried eggs, sesame seeds, and sausage pancakes that can be easily found in Korean households.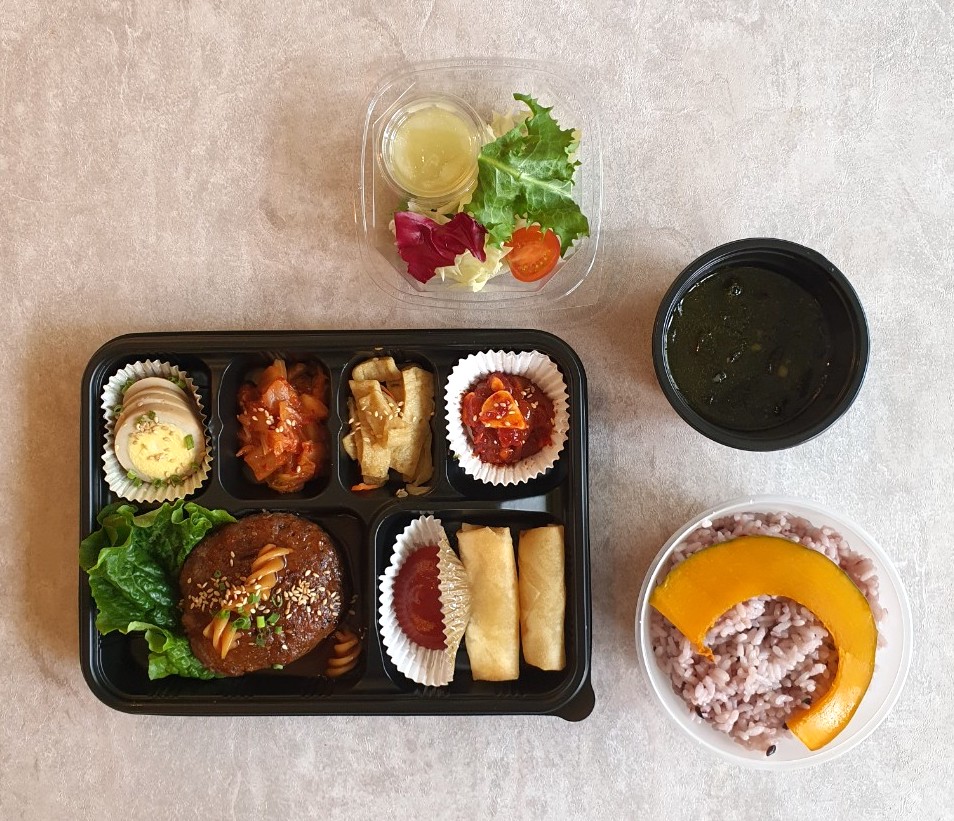 Your dosirak became viral on social media, how has it changed your business?
So far, the lunchboxes sector have been running in Korea in a relatively old fashion way.
Being meeting and communicating with many people at the same time, I started using social media and got used to it. Since then I started to introduce my menu in a more simple way on social media.
In addition to my acquaintances or places where I had direct business, I gradually expanded the scope of activities and started slowly when I received positive feedback. After seen my posts in their feeds, customers could choose, order, and make payments online directly. I didn't do any promotion, orders just started coming in.
Unlike in the past, these days many people find face-to-face or telephone conversations rather uncomfortable or tiring. We will continue to study ways to make social media and online ordering methods more accessible.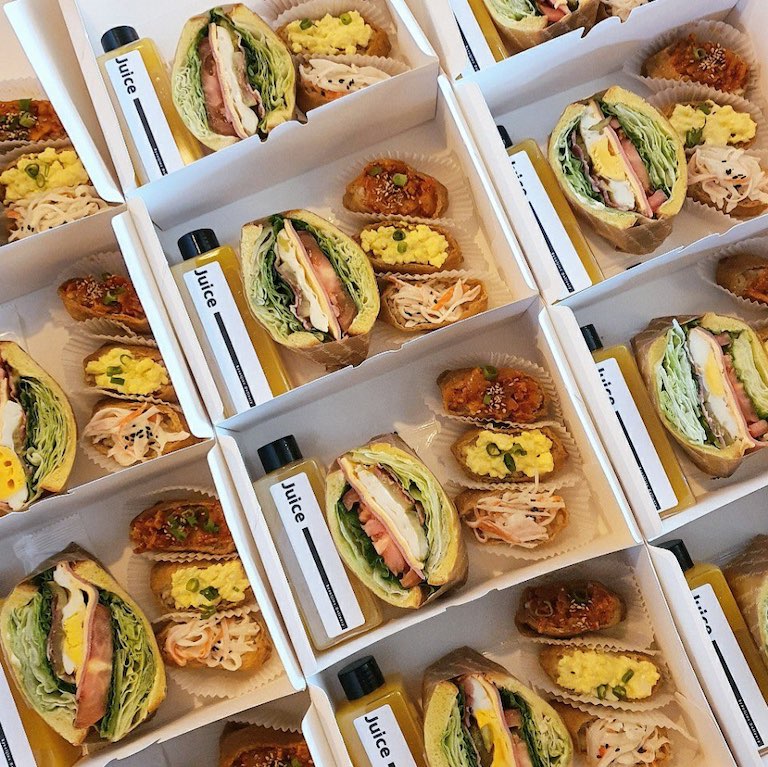 Many kpop stars have become fans of your food and you have fed important bands like Blackpink and BTS. DId they have a special request for their dosirak?
The first difference is that they order food that is more expensive, more expensive than other people. Ha ha.
My food is delicious. But there are many delicious foods besides my food. Before we started this business, I was lucky to know many people involved in entertainment industry. This allowed me to understand the way of work and trends of entertainment and performance events.
These people choose whoever can fulfil their personal requests. They tend to prefer take away service for instance.
We collect everything left behind by them so they don' t have to worry about anything, even if is not directly requested by client, to let the artists and staff focus on the event and their performance. This is the kind of service that satisfies them and make them loyal to our company.
If they are happy with our service, they will order again and recommend us to their friends and colleagues, so in this way we have more opportunities.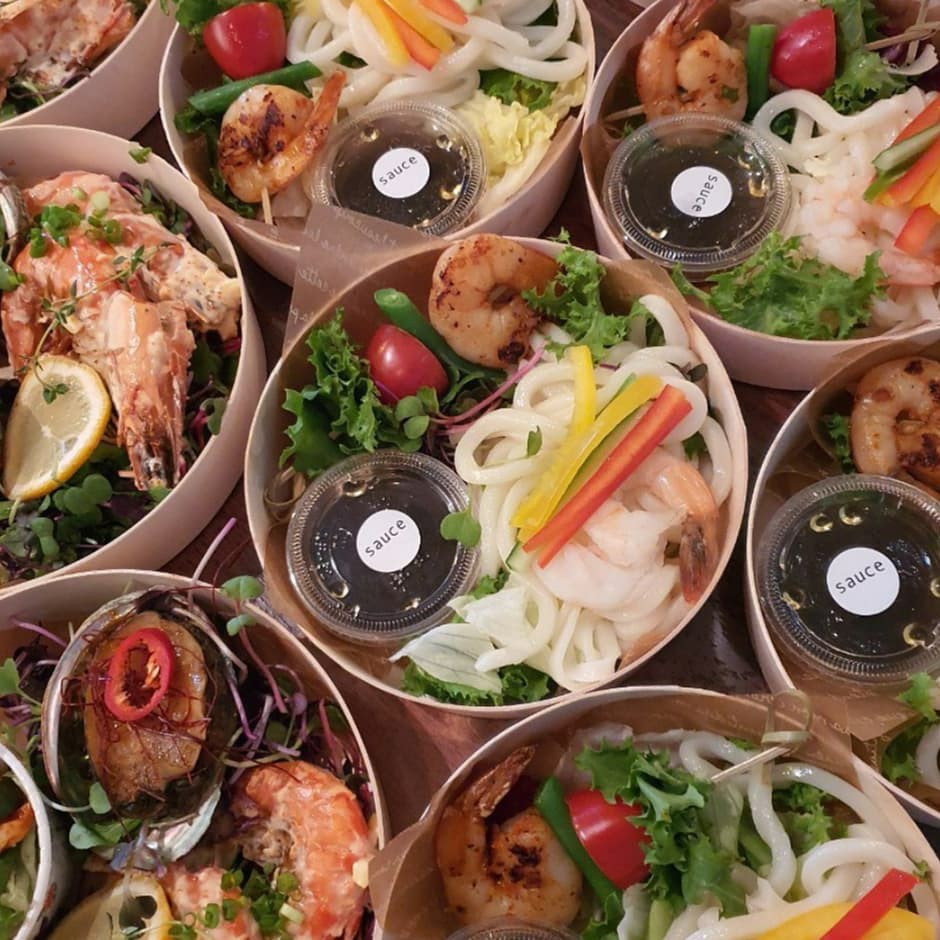 How do you develop the recipes and how often do you change it?
If you're asking about the development of the recipes, I always study various menus around the world, and of course, Korean too.
Choose a popular (demand) food, check what is needed to make it, and after we find the right boxes to make it, we launch the new menu.
As I mentioned before, the taste is more important, but I want to include memories and nostalgia in my lunch box.
For this reason, after developing a new lunch box, before delivering to customers, I try it myself, after putting together the exact same box. I check the balance of flavours, the taste and if it is filling. Only then the final product is presented.
Any new recipe that is launched goes through a lot of testing before we release for customers to buy.
Usually, we don't have the need to modify them afterwards. However, it can chance things if necessary. The development of new menu goes on of course.
I want to be able to satisfy more diverse and many people as people, and broaden their choices.
Even if at the beginning people will order regular menu, if they are happy with the product it will increase their trust in us so they will be open to try new menus.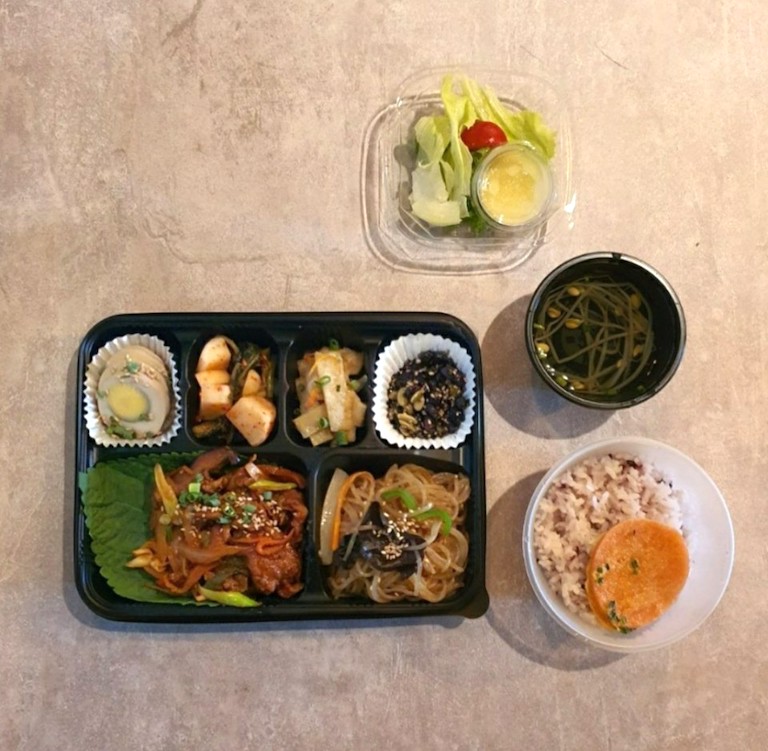 Tell us some of you favorite Korean food
Jokbal (a Korean pork shank cooked with soy sauce and spices). Pyeongyang naengmyeon (cold dish with buckwheat noodles with meat broth and dongchimi (fermented watery radish kimchi)
Grilled eel (food eaten by freshly caught eel grilled over charcoal seasoned with salt or soy sauce);
Eel is known to be good for health, and is a great dish to be eaten with various pickled vegetables and accompany it with soju.
If I should include drinks among my favorite foods, I would include soju. I love soju. Drinking soju often is not good for your health, but one of the reasons I care about my health is to being able to enjoy soju responsibly.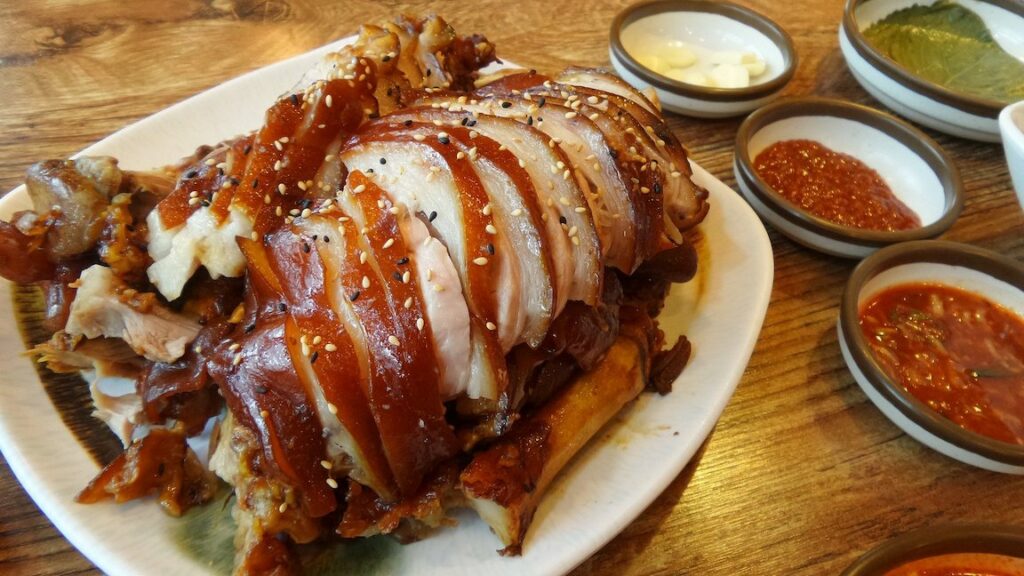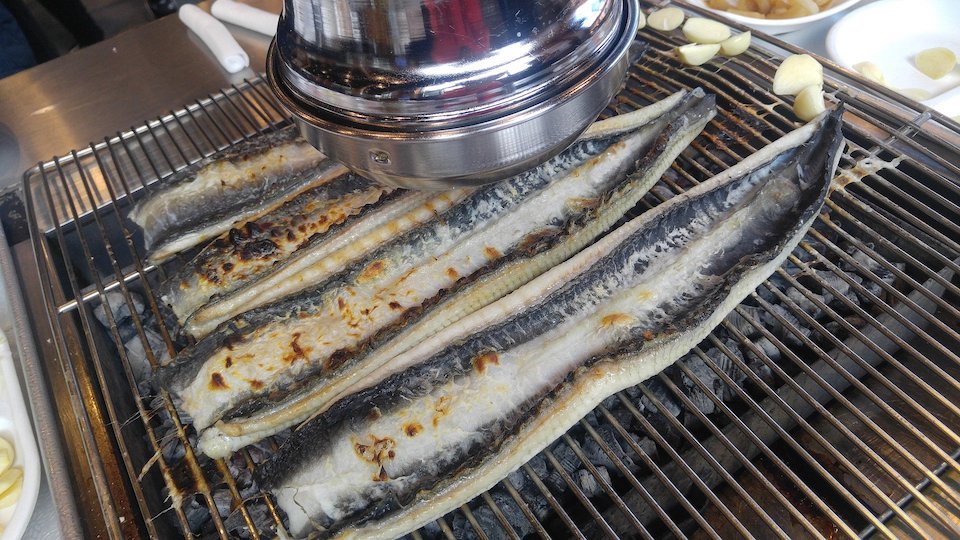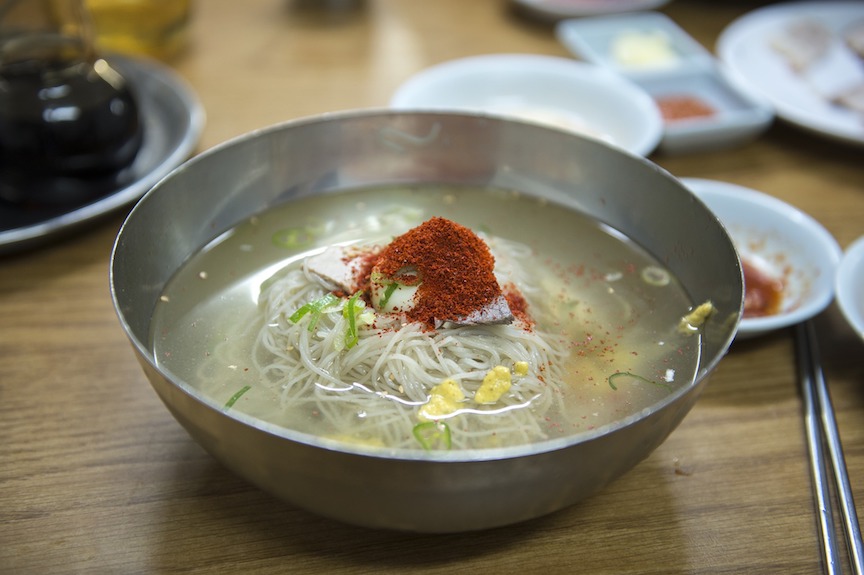 Could you suggest an easy recipe to make it at home in order to get a delicious dosirak?
If you want to make an easy and delicious lunch box, I recommend kimbap or fried tofu rice balls. You can easily buy kimbap and fried tofu rice balls kit from the Korean mart's refrigerated section.
Even if you are not good at cooking, you can make delicious kimbap and fried tofu rice balls with this kit. Maybe in the case of kimbap, some skill is needed. Even if you don't have any experience in cooking, you can easily make pretty looking fried tofu rice balls.
What are your plans for the future?
I have one issue that I want to solve. It is an environmental issue.
Most of the lunch boxes and box catering products are paper containers to reduce waste.
However, due to the nature of Korean food, there are many foods are soup based and most of the dishes are preferred to be eaten hot. These things are impossible to obtain with a paper container. I've been looking for a solution in a lot of products and companies, but I haven't found it yet.
In addition, I would like to convey the meaning of handmade lunch boxes, together with my idea of simple food, similar to HMR (Home made ready food), to as many people as possible. For this purpose, we recently started developing products that further from being HMR, would convey my philosophy and sensibility for simple and delicious food. My desire is to coexist together, be healthy and happy, with the people who are around me and the environment.
All photos courtesy of Chef Ye Yun Seok "Beaver"