Today we bring you a real autumn feeling with our seasonal menu, inspired by my time in Korea.
I remember having this type of lunch during chilly autumn nights in Seoul.
Autumn menu:
Hobak juk – Pumpkin porridge
Beef Jang Jorim – Beef marinated in Soysauce
Donchimi – Radish watery kimchi
Baechu kimchi – Classic spicy napa cabbage kimchi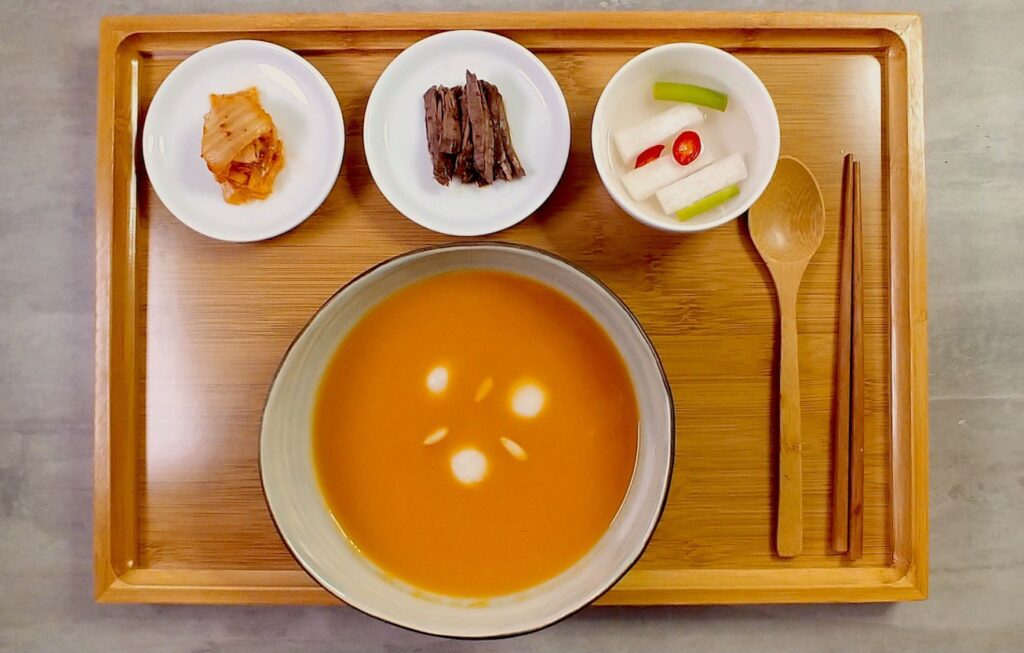 Hobak Juk – Pumpkin porridge
Ingredients for 4 people:
1 pumpkin
1/2 cup of glutinous rice flour
1.5 l of water
salt
For rice cakes
1/2 cup of glutinous rice flour
warm water
Instructions:
Remove seeds from pumpkin
Cut the pumpkin into blocks and cook it in boiling water for 15 min
Drain the pumpkin and remove the flesh and put it in a blender.
Add a couple of spoons of the water used for cooking and blend it
Prepare the rice cakes mixing rice flour and hot water. Make a dough and shape it in a cylinder. Create rice balls.
Cook the rice balls in boiling water until they come afloat
Create rice flour mix, that we will use to make our porridge thicker, by mixing rice flour and water.
In a pot add the pumpking and the rice mix. Cook it for 2-3 min and add salt to taste
Serve adding rice cakes
Baechu Kimchi – napa cabbage kimchi
Find our kimchi recipe here
Dongchimi – watery radish kimchi
Ingredients for 4 people
2 Korean radishes
1 tbs sugar
1 small pear
2 green onion
2 chilli pepper sliced
5 garlic cloves
3 cm ginger piece
1 tbs glutinous rice flour
1.2 l of water
2 tbs of sea salt
Instructions
Clean and peel the radish. Cut in thick sticks (around 5 cm long and 1 cm thick) and place them in a bowl.
Sprinkle salt and sugar and toss well to cover them. Let it rest for 40 min until radishes have softned. Drain and keep released liquid for the brine
Mix glutinous rice flour with 1 tbs of water and simmer at low hear. Use a wish and create a thick paste. Set aside to cool down.
In a blender, place sliced ginger, garlic and pear. Add 50 ml water and create a puree. Add water if necessary and filter.
Make brine by adding 1.2 l of water to the liquid from the radish, add salt and gloutinous rice paste. Stir well.
In a glass storage container put the radish, green onion and pepper. Pour the brine and stir well. Taste the brine and add more salt or water if needed.
Leave it at room temperature for up to 48 hours then store it in the fridge.
Donchimi can be consumed right away but is better to wait a few days to let it develop it's characteristic acidic flavor.
Jang jorim – soy sauce braised beef
1kg beef brisket or flank steak
1/2 onion
white part of scallion
100 grams Korean radish, mu, cut into chunks
5 garlic cloves
3 thin ginger slices
1/2 teaspoon black pepper (or ground peppers to taste)
5 tablespoons soy sauce
2 tablespoons soup soy sauce (or use more regular soy sauce)
1 tablespoons sugar
2 tablespoons rice wine or mirin
Instructions
Cut the beef into 2 to 3-inch rectangles.
In a covered medium pot, bring 8 cups of water and the next 6 ingredients to a boil. Continue to boil for 5 minutes over medium high heat.
Drop the meat into the pot. Bring it to a gentle boil, and remove the scum. Reduce the heat to medium. Boil, covered, for about 30 minutes.
Remove the meat. Strain the cooking liquid into a large bowl, and then add 2.5 cups of the liquid back to the pot. (You can save the remaining broth to make a soup or stew later.)
Add the meat and sauce ingredients to the pot. Bring it to a boil over high heat. Reduce the heat to medium, and boil, covered, until the meat is tender and the sauce is reduced to about 1/3, about 20 minutes. You can cook longer if the meat is still not tender enough.
Add the optional dried kelp, peppers and eggs and continue to boil for about 10 minutes. Discard the kelp, and transfer everything else to an airtight container for storage. Cool before storing in the fridge. Shred the meat and pour some sauce over to serve.
Keep it refrigerated in an airtight container. It will keep well up to 7 days. If you want to ke