Acorn Jelly Salad – Dotorimuk muchim (도토리묵무침)
Dotorimuk muchim is a vegan side dish in which chunks of dotorimuk (acorn jelly) are seasoned and mixed with vegetables such as lettuce, cucumbers and scallions and dressed with a sauce made with garlic, soy sauce, sesame oil, red chili pepper powder, and sesame seeds.
It's a traditional recipe from the mountainous areas of Korea, when abundant oak trees produced enough acorns each autumn to become a viable source of food.
Ingredients
300 g acorn jelly
1/3 of a cucumber
30 g crown daisy (or any other green leaves veggies like lettuce)
seasoning sauce

24 g (1⅓ tablespoons) soy sauce
2 g (½ teaspoons) sugar
1.1 g (½ teaspoons) ground red pepper
4.5 g (1 teaspoon) minced green onion
2.7 g (½ teaspoons) minced garlic
2 g (1 teaspoon) sesame seeds 13 g (1 tablespoon) sesame oil
Instructions
Slice acorn jelly (3cm by 4cm).
Wash the cucumber by rubbing and slice into thin strips. Soak in salt water for 5 minutes. Dry pat and set aside.
Trim and wash the crown daisy and cut it into 5 cm slices.
Blend seasoning sauce.
Add the vegetables and seasoning sauce to the acorn jelly and toss gently so not to break the jelly.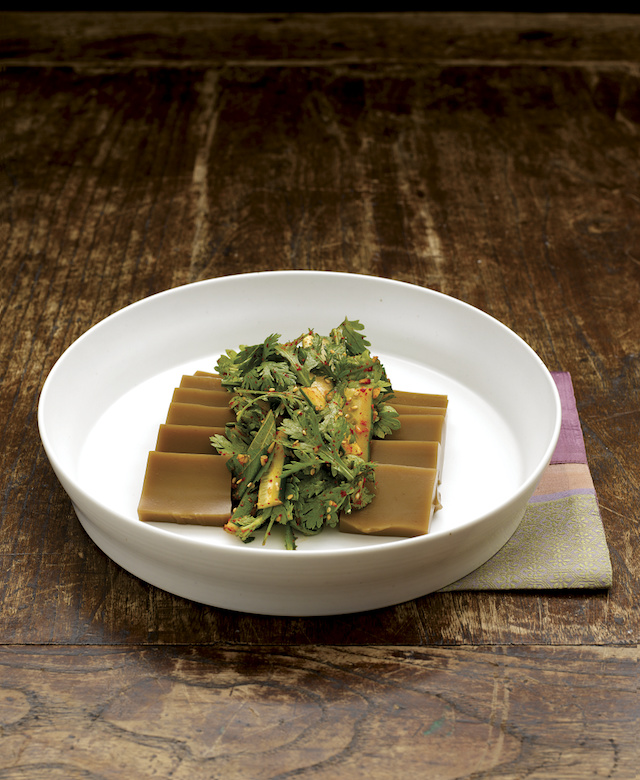 This acorn jelly salad can be consumed either as banchan (side dish) or as snack (anju) to accompany alcoholic drinks like makgeolli.