Hello everybody!
Porridge is often consumed by Korean people and it's considered a light and healthy meal. There are many restaurants serving porridge (죽) in every city.
Today we will give you an easy Korean rice Tuna porridge recipe to try at home.
Ingredients for 2 people
2 cups of sticky rice (around 180 gr)
1 can of tuna in brine
2 carrots
1 clove of garlic
1 spring onion
1 ts of roasted sesame seeds
2 tbs sesame oil
1 tbs fish sauce
1/2 sheet of roasted seaweed
Instructions
Dice the carrot and chop the spring onion and the garlic clove
Heat a pot over medium fire and add 2 tbs of sesame oil. Sesame oil has a low burn temperature so keep an eye of it!
Stir fry the garlic, spring onion and carrot for a minute
Add the rice (you can also use already cooked rice) and stir for a few minutes
Pour 600 ml of water.
Add 3/4 of of the tuna can
Turn the heat to low and cover the pot with the lid. Let it cook for 40 min. Occasionally stir and add more water if needed so the rice won't stick to the pan.
Add one 1 tbs of fish sauce and a pinch of salt
Roast the seaweed on a pan and shred it by crashing it with your hand in a small plastic bag or use kitchen scissors.
The dish is ready to be served. Pour the porridge in bowl and garnish with the remaining tuna, seaweed and sesame seeds.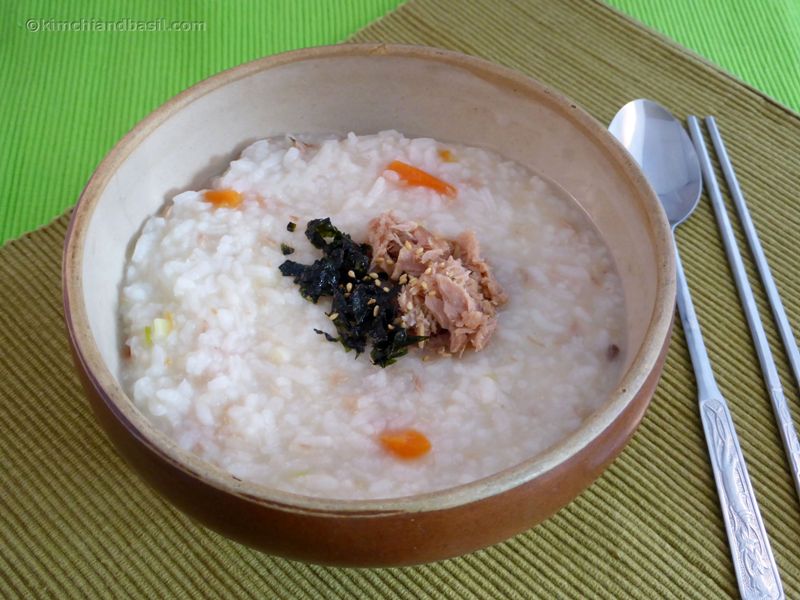 Enjoy! If you like this recipe don't forget to like us on Facebook and follow us on Twitter!