The interest of contemporary art towards food is growing and many artists are using food as a medium for discussing ideas. This connection between food and art was explored through performances at the Entretempo gallery during the exhibition "The King of Table".
For "The King of Table", five artists coming from different countries (Korea, Germany and Japan) were invited to exchange ideas on Korean food culture. The performances and artist talks addressed topics like hyper-consumism, health craze and globalization.
The opening act was the performance of artist Byung Chul Kim, Korean artist living in Essen (Germany) who focuses his art practice on the quest for alternative means of exchange or an alternative exchange economy. In his previous works, such as Performance-Hotel and Performance-Express a couchette or a train ticket could be obtained in exchange for a performance from the public.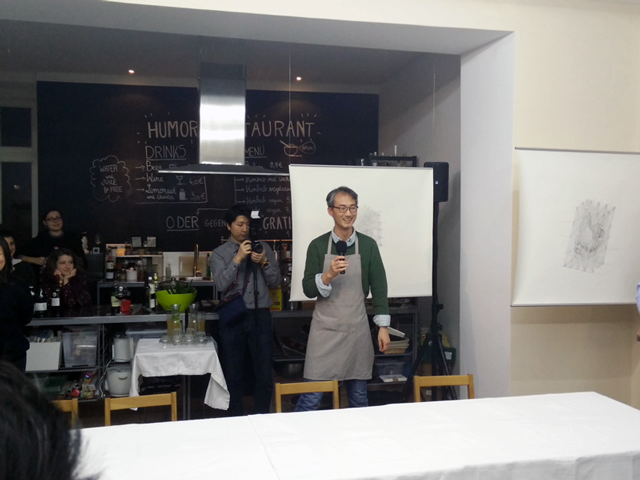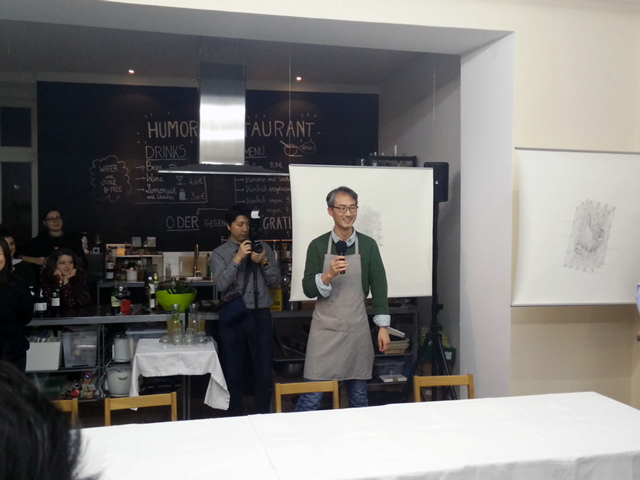 In his Humor Restaurant, the artist introduced humor as a means of exchange for his Korean food: visitors can choose a meal from the menu, order it, eat it and then pay for it by telling a joke to make the audience and the artist laugh or choosing instead to pay by cash.
As in his previous works, Kim is addressing his search for alternative means of exchange and questioning the monopoly of money. In the Humor Restaurant, the guests can earn a meal in exchange for a comic performance. With these actions, the artist counters the monopoly of money in response to the financial crisis, and offers and alternative medium that connects both artists/chef and public/customers on a more personal level, exchanging emotions rather than money.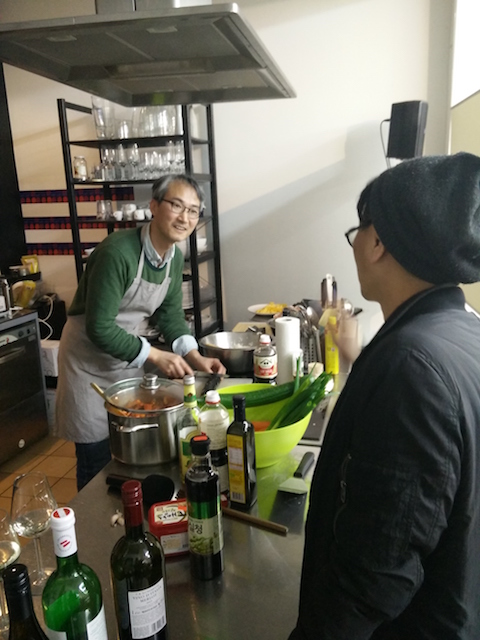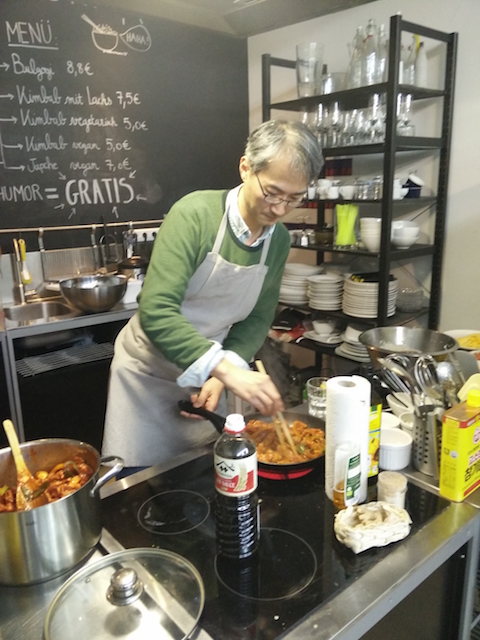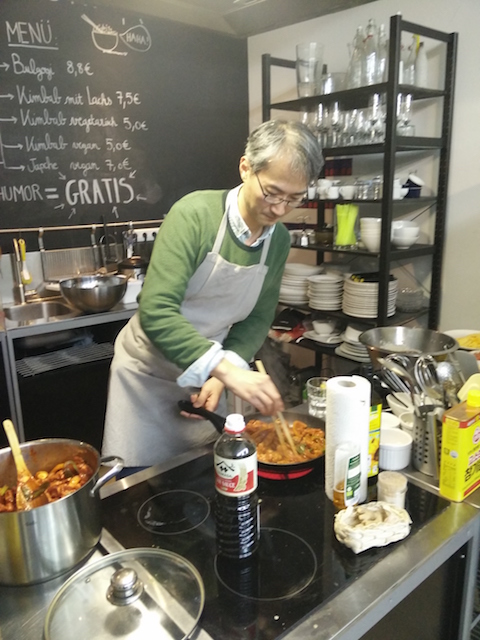 The Menu of the Humor Restaurant included  Kimbap, Bibimbap, Japchae, Bulgogi Deopbap, some of the representative dishes of Korean cuisine. The atmosphere was positive and many visitors came to the vernissage at the Entretempo gallery and tried their best jokes to entertain the visitors and the artist. It was also a good chance for people who have never tried Korean food before to experience it in a different setting such as an art performance.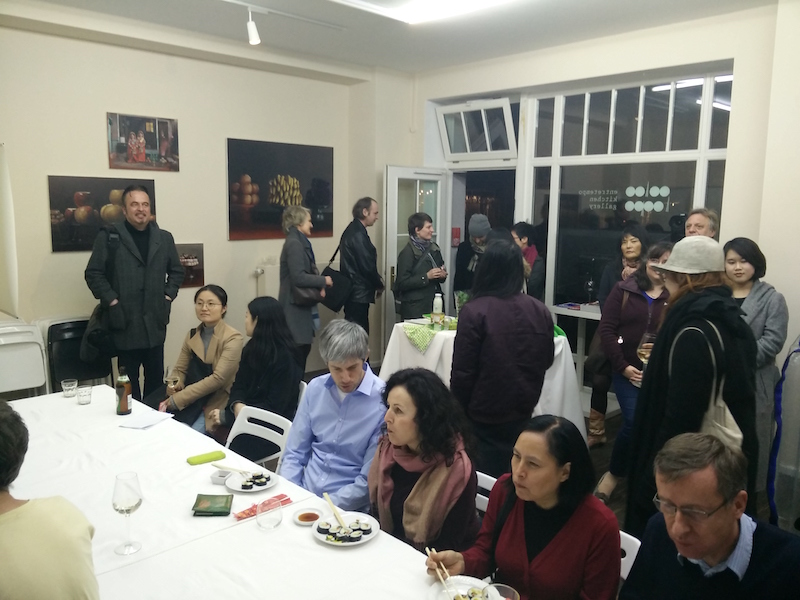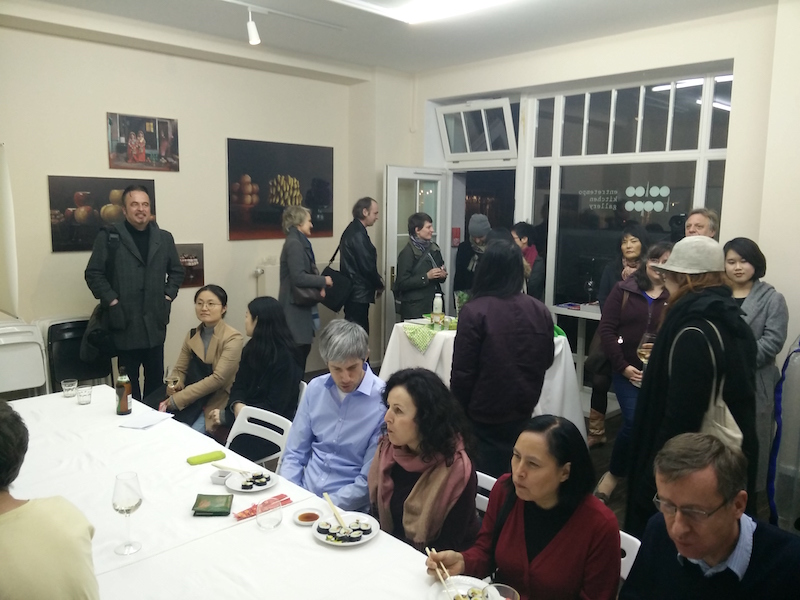 "The King of Table" and its performance by the different artists initiated a special dialogue between food and art, and between artists and visitors. In case of Humor Restaurant, it showcased also another aspect of Korean Food, that is also a characteristic of Korean cuisine, the idea of gathering around a table to share food, but also stories, experiences and laughs.
Photos&Videos  © Kimchi&Basil