Hi All,
we are in Montreal now and as promised, we have tried more Korean food here in Canada. Although the Korean community here in Quebec is big as the one in Ontario, there are quite a few good korean restaurants in Montreal. The one we visited today is a family-run restaurant in the heart of Chinatown.
The dish we propose today is Jjampong and it's a dish that was originally created in China but that has been adapted in Korea and that has become a very popular dish as much as jjajangmyeon (짜장면). As Jjajangmyeon, it is reasonably chap and filling, making it a perfect meal for students. Another similarity with jjajangmyeon is that  jjampong it is usually served in Chinese restaurants in Korea (as well as take away) . Funny thing is that if you are outside Korea, you will find this dish mostly in Korean restaurants.
Jjamppong consists in a stew of seafood, usually shrimps, octopus and sea shells like mussels and vegetables served with wheat noodles. Vegetables include green onion, carrots, ginger, cabbage and mushrooms. The peculiar thing about this dish is that the recipe is very flexible and the ingredients can change a lot according to their availability and on the country and can also include meat. The jjamppong we tried here in Montreal was prepared using squids, shrimps, octopus and clams as seafood and sliced pork as meat. The vegetables used were mushrooms, spinach, onion, green peppers and carrots.  The spiciness to the dish was given by the red pepper flakes added.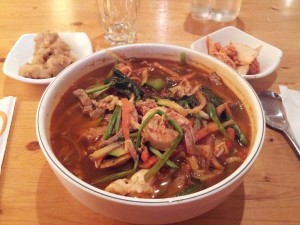 This dish matched the location we were in. The restaurant was a family-run business and we could feel that this dish has been prepared as a mother would do for their family. The taste was enriching and warm and it was very comfortable to be there at that moment, enjoying the jjamppong after a long walk in the snow of Montreal. The banchan served with the dish were cabbage and radish kimchi and sweet potato.
Stay tuned for the next dish!
Vincenzo