Winter in Korea can be very cold, but fortunately Korean food has plenty of dishes to choose from to warm you up. Being sold as street food, or served in restaurants or prepared at home, all these dishes will give you comfort during chilly winter days.
Baked sweet potatoes – Goon goguma (군고구마)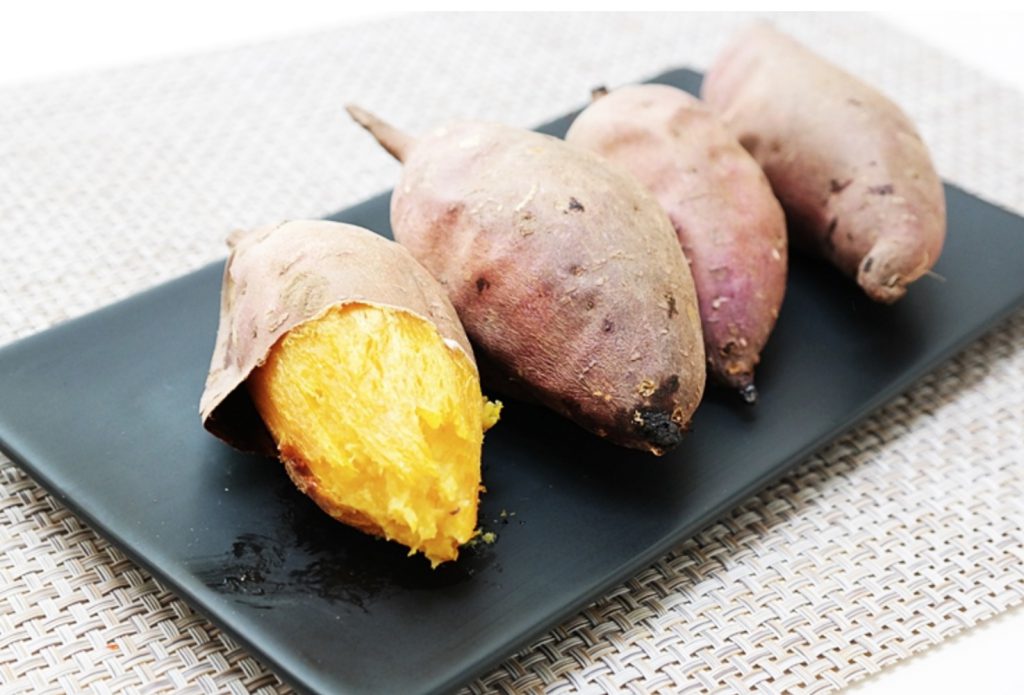 A traditional winter snack, with creamy texture and sweet flavour.  A healthy and filling snack that can also be easily prepared at home in the oven.  (Photo from blog.naver.com/jsurann/)
Roasted chestnuts – Gunpam (군밤)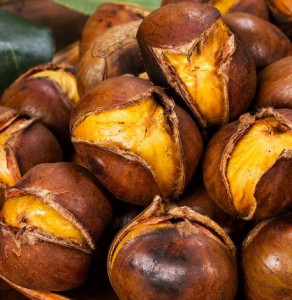 Roasted chestnuts are a simple but energetic treat also in Korea. When winter comes, you will find the vendors selling them in paper bags all over the city. (photo from gamsungdot.tistory.com)
Dumplings soup – Manduguk (만두국)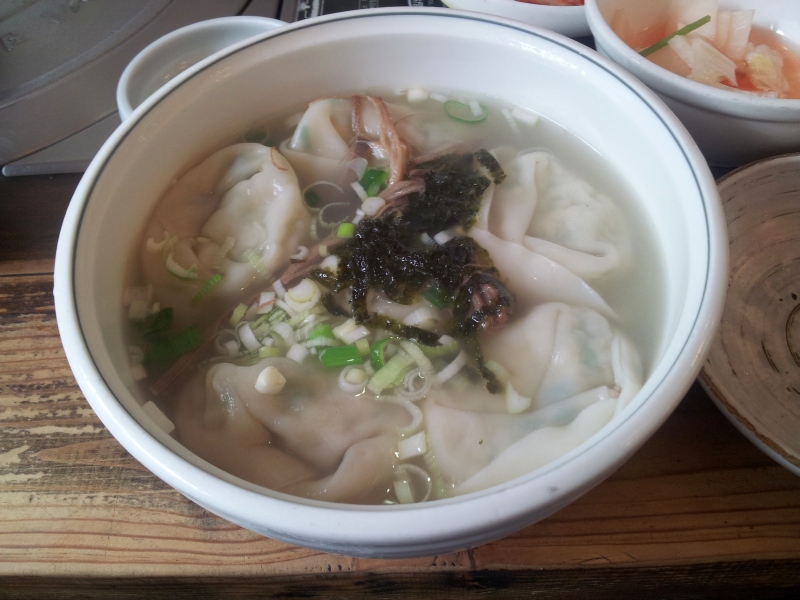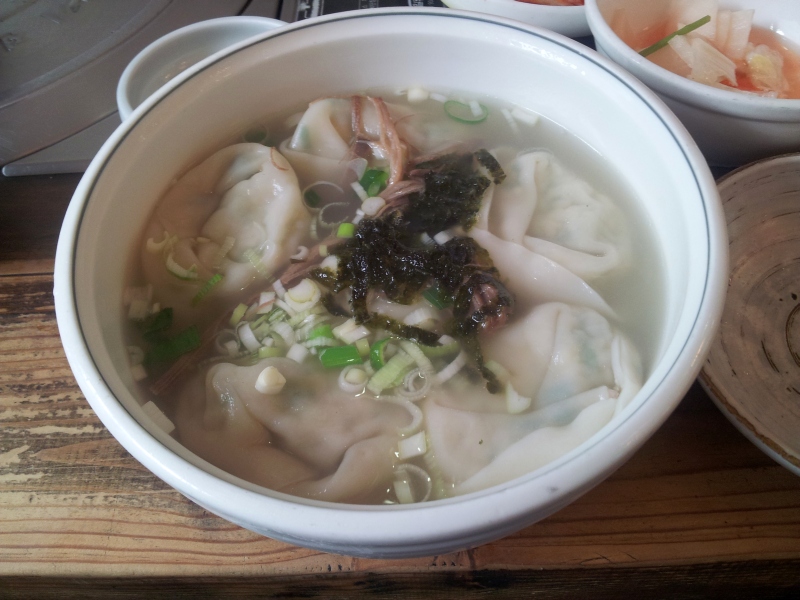 Although consumed all year round, this soup is traditionally served during family gatherings. Meat and vegetable filled dumplings are cooked in broth. Our recipe
Pastry with red bean paste – Bungeoppang (붕어빵)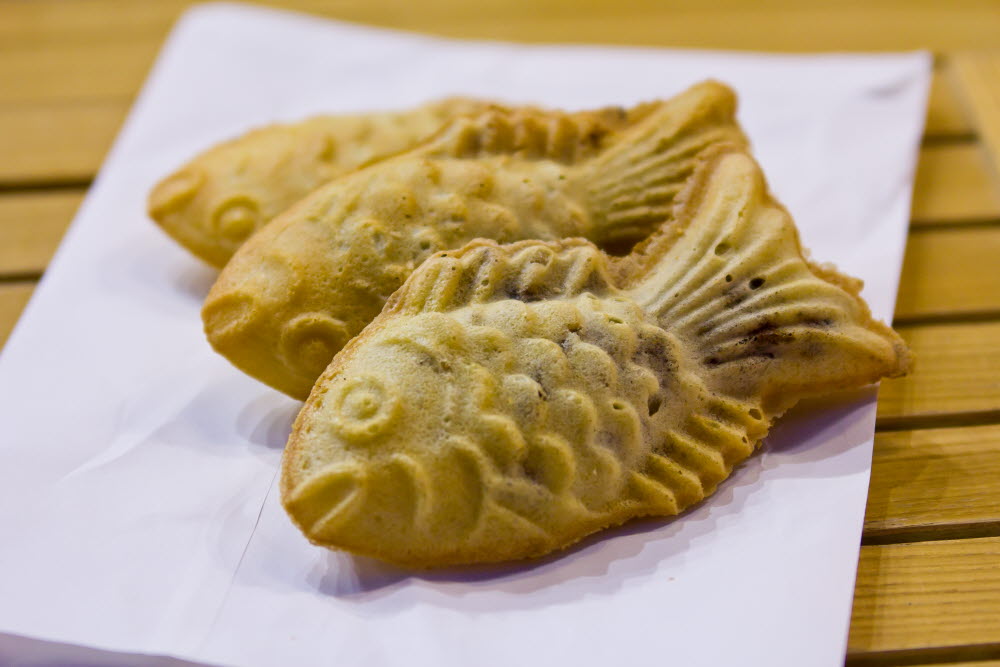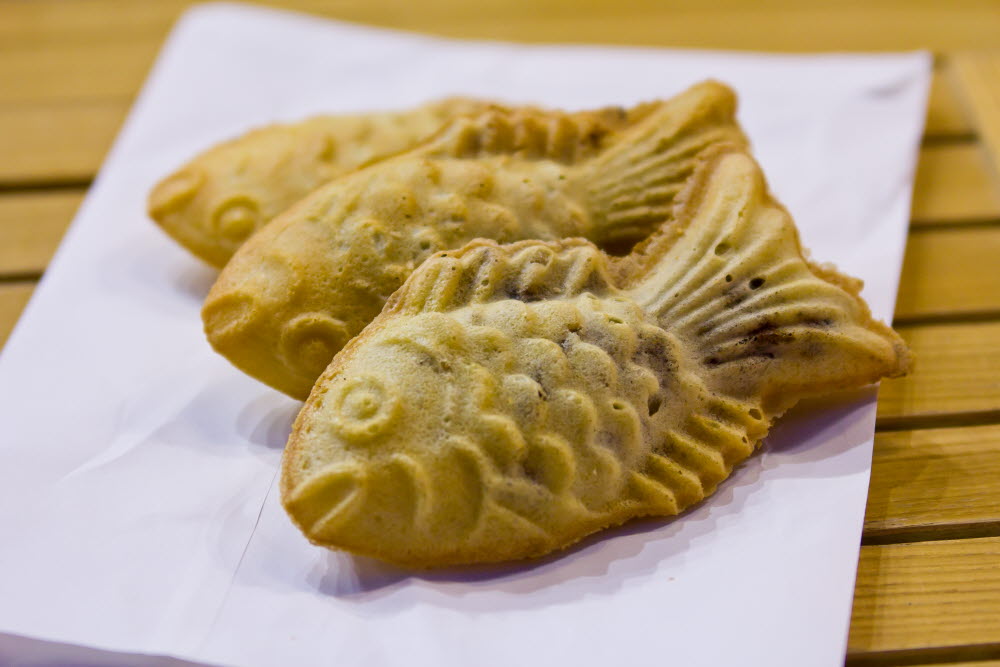 One of the most common street foods in Korea, easy recognizable by the fish (carp) shape. Dough filled with sweet red bean paste, it is a great warm treat! (photo from mekainkorea)
Kimjang kimchi (김장 김치)
Kimchi is the representative dish of Korea, and there are hundreds of different kind. Kimjang is the traditional making at the beginning of the winter, and in this occasion relatives and friends get together to prepare kimchi.
Preparation can take from a few hours to a full day, so at the end of it, people have dinner together enjoying the fresh kimchi with other dishes. (photo from koreatimes.co.kr)
Rice cakes soup – tteokguk (떡국)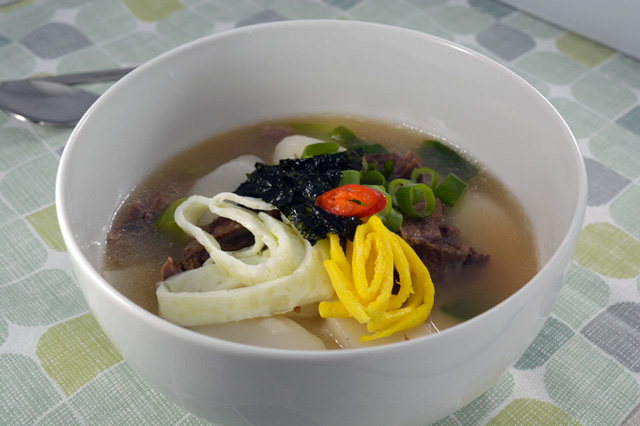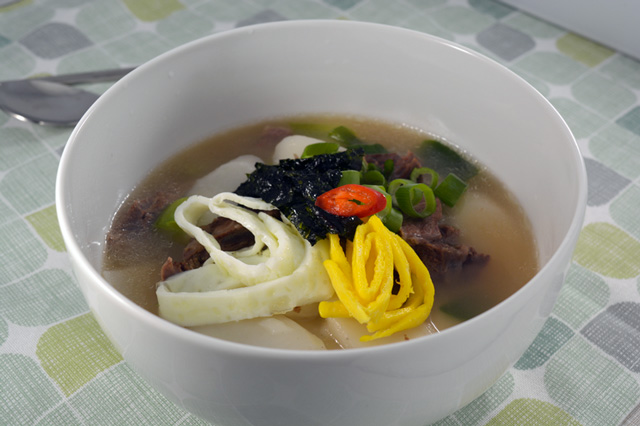 A dish that is eaten traditionally on the first day of the New Year and for Koreans this is the day when they become one year older rather that on their birthday (photo by http://pixgood.com). A saying explains that you actually have to eat Tteokguk in order to become older. Tteokguk is a soup made with rice cakes (tteok) in broth (guk). Traditionally the broth used is beef broth but there are other versions with chicken or vegetable broth.  Another version also use mandu (dumplings) and in this case the soup is called tteok-manduguk (recipe: http://wp.me/p3OObd-68).
Fish cakes – Odeng (오뎅)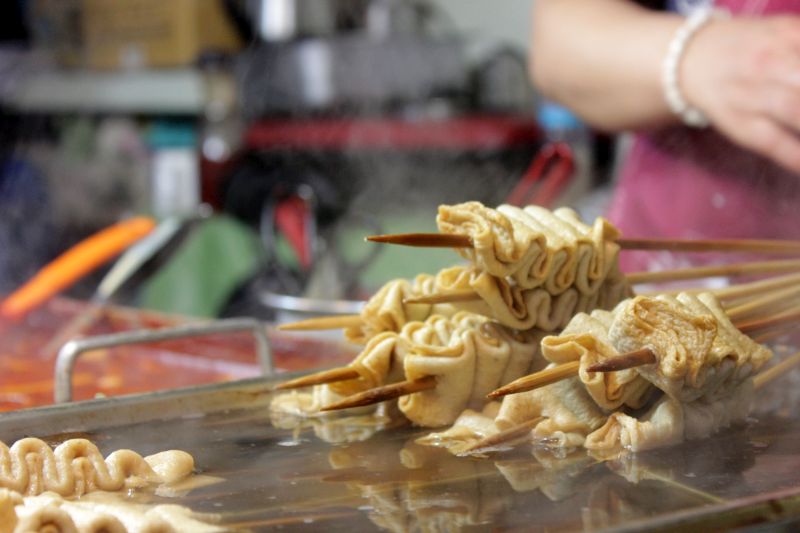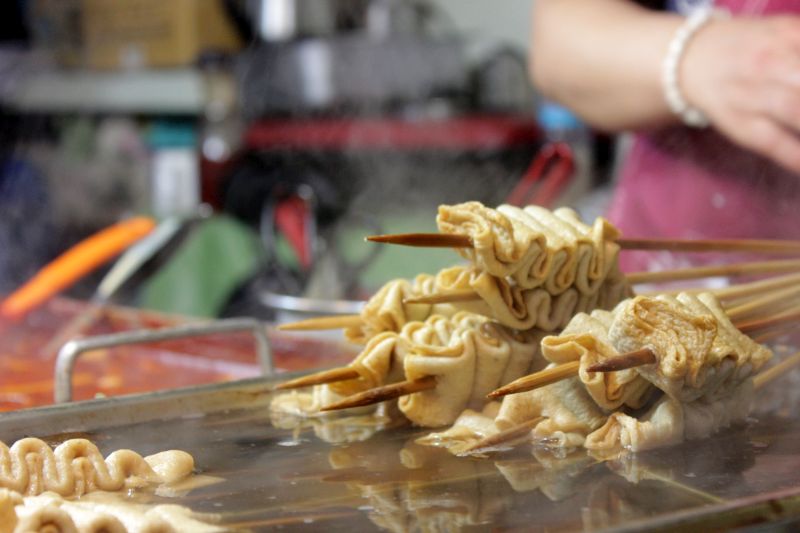 Another of the most popular winter snack are  these fish cakes skewers, cooked in hot kalp broth. Simple flavor but a real comfort food in the cold winter, especially when sipping the warm broth.
Sweet pancakes – Hotteok (호떡)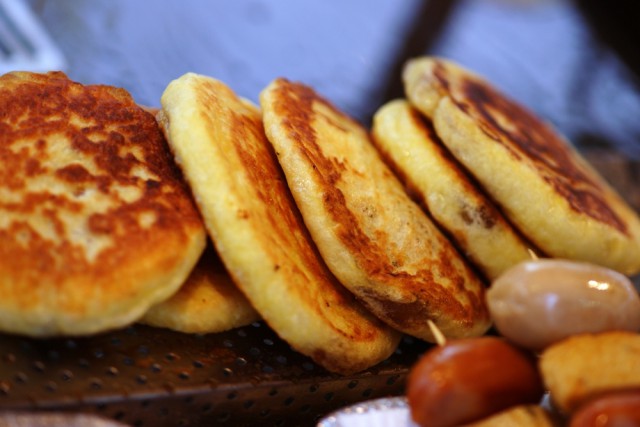 Delicious rice flour pancake filled with sugar, cinnamon and peanuts, then fried. Markets and shopping districts like Insadong are crowded with street vendors selling this treat. But be careful when giving the first bite, since the filling can be very hot!
Spicy rice cakes snack – Teokpokki (떡볶이)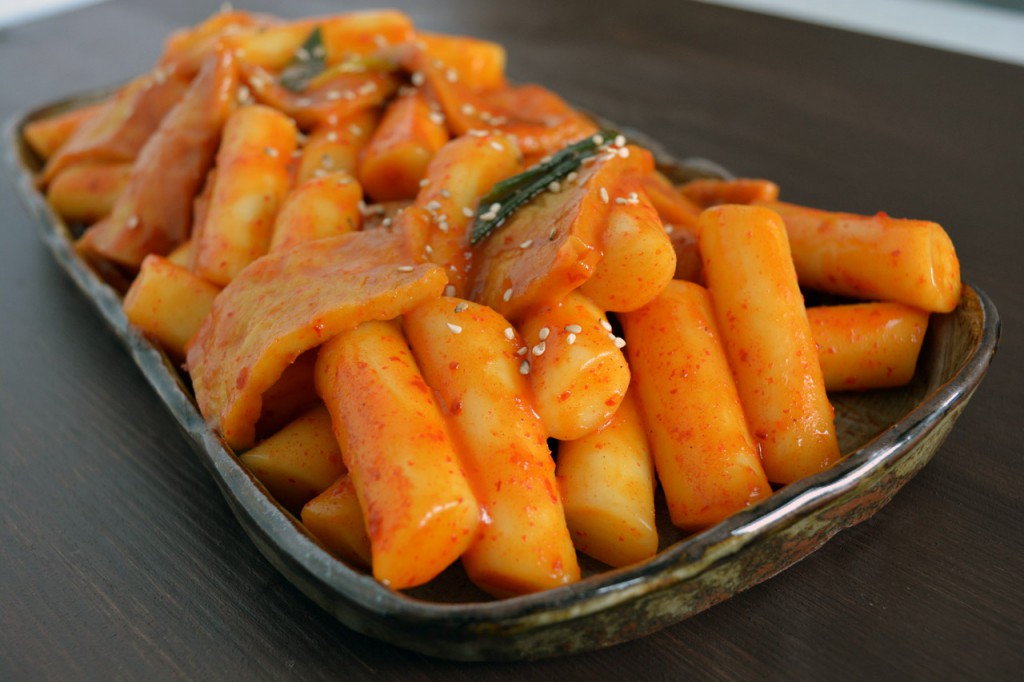 Popular street food, with a distinctive spicy and sweet flavor. Prepared with rice cakes, fish cakes and vegetables (cabbage, carrot and onions) and chillir paste for the sauce. Teokpokki is often prepared at home as well and is one of the favorites treat for kids too.