Organic and sustainable food has becoming popular in South Korea during the last few years. Awareness about the importance of a healthy diet has grown and so the number of people interested in these topics.
The first Marcheat market was held for the first time in 2012 and was founded by Sukyang Kim with two other organic food enthusiasts. It is becoming bigger and bigger and since the first time has gathered organic farmers and handcrafters from all over the country.
I was looking for this kind of market in Korea and after a hint from a friend, I got to know about Marche@. We visited then the market together last month.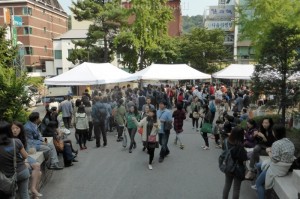 It was a sunny day and it was a perfect day to walk around the stands, meet people and chat over some delicious food. It was also a good opportunity to escape from the hectic Seoul life, and relax by going around the many stands and meet many people smiling at you and offering you to have a taste at their products.
The market was very busy since early morning, even before the vendors could install their stands and start showing their products.   I noticed that many of the people visiting the market have been here before or are actually regular costumers who got to know the vendors better, so it was possible to listen them chatting over their common interest in organic food and many other things. I think this is one of the few markets in the city where is possible to create such a communication between vendors and costumers.
There was a huge variety of products available: organic apples  from a family-run farm in the Daegu area (those apples went sold out very fast!) to home made pickled vegetables, from several home made jams (made with strawberries or green plum) to fresh basil pesto. Many fresh vegetables were also available of course, and my friend bought some green peppers and eggplants.
Next to these products, there were also many stands cooking food and serving some delicious treats. My attention was caught by a teokpokki stirred with vegetables and soysauce and I couldn't resist from trying it. It was very tasty and I was very happy of trying a non-spicy teokpokki for once.
Accidentally we met a friend of my friend who was working at a stand selling some great looking vegetarian burritos and burgers. That was a very busy stand, and many people were queuing to get one. The vegetables patties were made with different beans (as seen in the picture) and were very tasty. The bean-burger was juicy and with very rich flavor, plus the addition of fresh mint leaves gave to the burger and burrito a fresh and "spicy" taste.
This market is a unusual place for the Seoul scene and it is a perfect spot for a quiet Sunday morning. Enjoy walking around the stands, smell and taste some delicious foor and talk to some enthusiastic and friendly people.
Marche@ is held every 1st Sunday (sometimes 2nd) of the month at Arko Art center plaza – Hyewha st (line 4, exit 2 – walk straight 5 mins, market will be on your left)
You can check the schedule at www.marcheat.net