Kimbap is one of the most common snack in Korea, and it is also one of the best take away food.Many mothers prepare this rice rolls for their children and include kimbap in their lunch box for school. This rice and seaweed roll can be made with many ingredients, from fish to meat, from eggs to vegetables and therefore there are many different kinds available. You can of course add your kimchi as well!
Few days ago we prepared our lunch box, including kimbap. Even though we love classic versions of the rolls, that time we wanted to prepare something different, and decide to use fresh home made hummus (chickpeas and sesame paste) for the filling of our kimbap. A real fusion of Korean and middle East flavours.
Ingredients for 2 people (4 rolls):
– 250 gr (4 cups) of sticky rice
– 4 spoons of home made hummus
– 100 gr (4 ounces) of spinach
– one carrot
– 50 gr (2 ounces) of your favourite cheese (we used Gouda)
– bunch of parsley leaves
– 4 leaves of Roman lettuce
– half cucumber
– 4 sheets of kim (sheet of dried seaweed paper)
– Sesame oil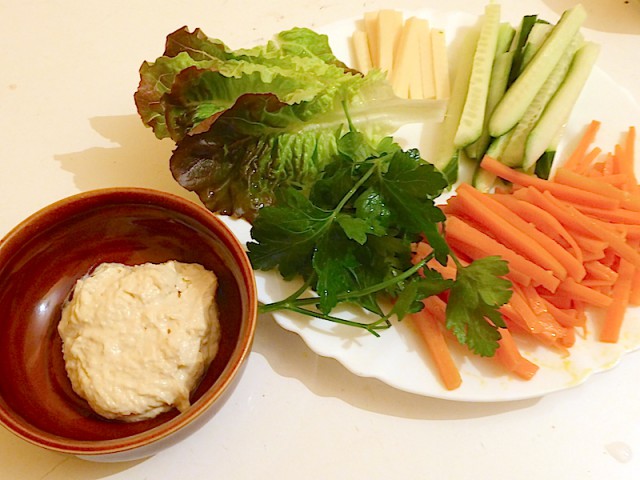 Instructions
After washing all vegetables under running water and drying them, let's start prepare our delicious rice rolls.
– Cook the rice. While rice cooks, we cook and slice the vegetables
– Slice the carrots and stir fry them for a 2-3 minutes until they become softer. Set them apart and add a pinch of salt
– Matchstick slice the cheese and the cucumber
– Cook spinach for 30 sec in boiling water. Strain them, gently squeeze them to remove excess of water and then mix them with 1/2 sesame oil, a pinch of salt and 1 minced garlic glove. Set them aside
– When rice is cooked, put it in a large bowl and season it with 1/2 ts of salt and a ts of sesame oil. Mix gently and let it cool down.
– On a bamboo mat, place the dried seaweed paper, spread part of the rice, leaving 2 cm uncovered at the top of the seaweed sheet. Spread on the rice 1 or 2  spoons of hummus.
– Add vegetables arranging them at the center of the rice
– Grab the math with both hands and start rolling, and keep a light pressure as you roll. Remove the mat as set the first roll aside. Continue to make more rolls by using remaining ingredients
– Put some sesame oil on the finished rolls and sprinkle some toasted sesame seeds.
– Use a sharp knife to cut them in 2 cm (3/4 inch) slices.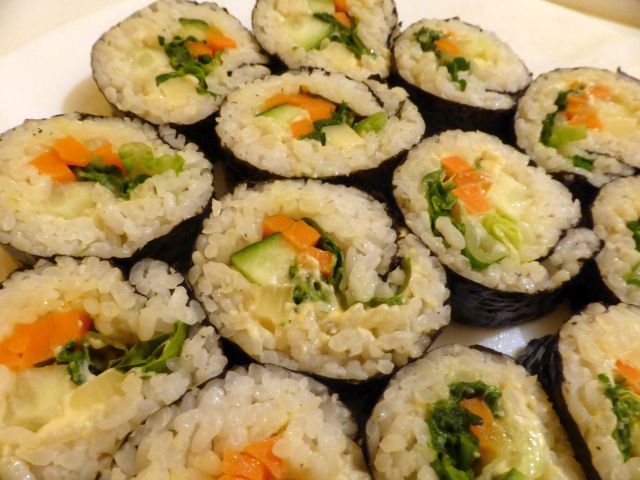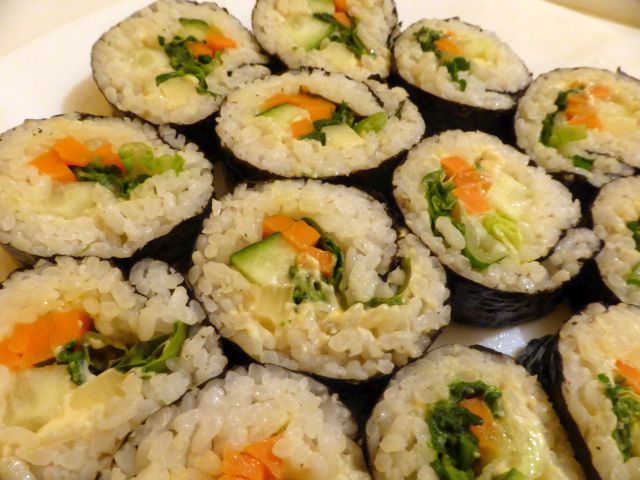 Your bite size kimbap is ready to be served!