Life in Seoul can be quite hectic and many people during  weekdays work a lot and don't have the time or the will to cook a healthy and nutritious meal everyday when they come back home. I think this also happens during the weekends, when people try to sleep as much as possible, and they don't really want to prepare their meals.
Even though there are many restaurants in Korea where you can get a decent meal, people still miss home style food. A Korean expression indicates this type of food as literally  "Taste by mother's hand" (어머니의 손 맛 ). The experience of the food prepared by their mothers and the culture aspect associated with it, sharing food with beloved ones, is something that many Korean miss nowadays.
In the last few months though, some people took this topic very seriously, and began to open restaurants where they would serve healthy home style food (jipbap – 집밥). In these restaurants they focus on the quality of the food and on preserving the natural flavour of the ingredients, avoiding any use of chemicals in their dishes.
Menu changes every day according to the availability of fresh vegetables and the season.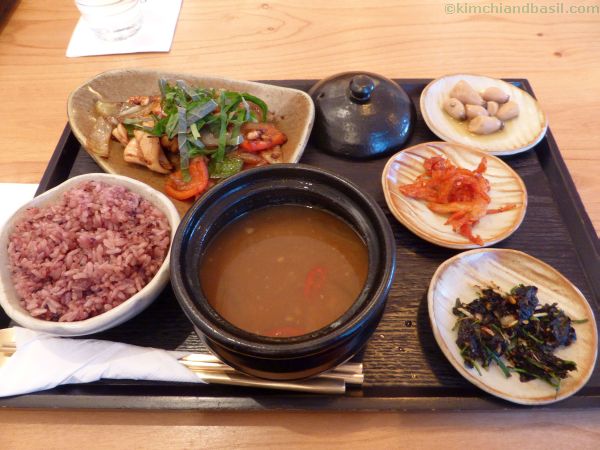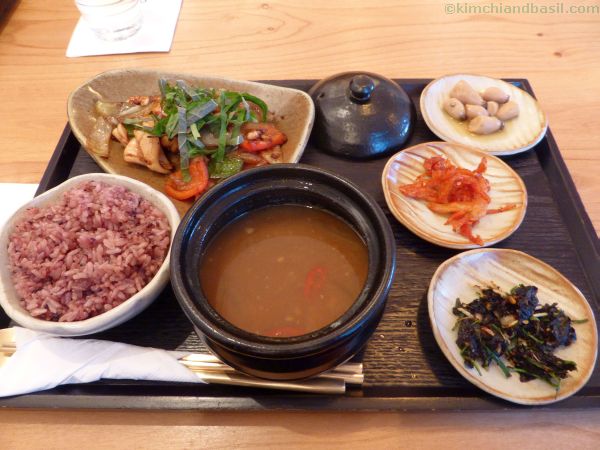 We visited the restaurant Parc  in Hannam-dong (743-1 Hannam Dong, Yongsan Gu, SEOUL – 서울시 용산구 한남동 743-1, 2층 website: http://www.parcseoul.com/),  following a suggestion from a friend. The owner opened this restaurant with the intention of serving the food as it was prepared by his mother and by using only fresh and local ingredients.
The today menu included stir fried squid, brown or white rice, soy bean soup and as side dishes pickled perrilla leaves, radish kimchi and Saesonghi mushrooms (young King Oyster mushrooms).
The food was delicious, and you could taste the freshness of the ingredients and at the same time the simplicity of preparation. The squid was fantastic and with the right amount of spiciness for my palate. A special mention for the soup, with a thick consistency and a sharp taste, and for the mushrooms, with a delicate taste. The lunch was great, and although a little pricier than average (a meal is around 10,000 won), it is worth it if you want to have some comfort food like that.
Home style food restaurant are beginning to be opened also in other areas of Seoul, so this seems to be the trend for the coming months. We have in our list other home style food restaurants and we will visit as soon as possible.
There are also some attempts to persuade people to be more sociable, by using food as a moment to socialize.  A new project called Zipbob (www.zipbob.net) is promoting social dining. On their website people can post the name of the restaurant they intend to visit and suggest a theme of the dinner. Anyone can register for a seat and share the experience with other people.  Also on Meetup.com there are groups organizing this kind of events. The social dining experience is already established in Europe and I am sure it will spread quickly in Korea too.
If you are in Korea why don't try a social dining event? If you do let us know how the experience goes. V.