During my room search of last week,  I have visited many houses in Sinchon , Hongdae and Ayheon areas and it was during one of these visits that I discovered the area around the Ayheon metro station. It was the first time for me to visit that area and I immediately noticed how different it was if compared to other district of Seoul that I have visited before.
After the Korean war many houses that were destroyed during the conflict were rebuild and replaced by 3 or 4 story houses where people who had their homes destroyed could move in. These houses were not made for lasting for long time, in fact they were replaced by big apartment complex and the area surrounding them went trough a process of modernization.
Ahyeon area although, didn't go through this process and the area mostly contains 3 or 4 story buildings and traditional houses. The bus went up on very steep hillside, and it was  struggling while riding between parked cars on both sides of the small streets.
As I looked around, I noticed that many of the old houses are abandoned or partially demolished and big apartment complex are starting to rise. This new urbanization plan is reflected in the population than inhabits the neighborhood: the age of the people here is high and most of the population consists of grandmothers and grandfathers while younger people moved to more modern and popular areas. It was amazing to find such a dramatic difference between Ahyeon area and Hongdae areas although they are less than 30 mins walk apart.
In today article I want to talk about Ahyeon because it's a good example of what are the possible losses of this process of modernization in this area.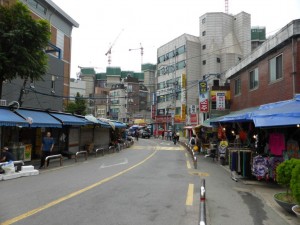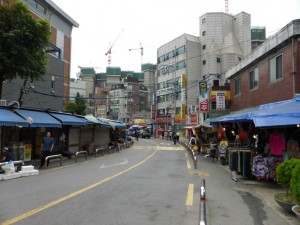 While I start walking trough the market stands and shops, I start realizing that this place is like a snapshot of the past: no fancy sign or brights lights,  vendors cutting and cleaning vegetables on a mat on the ground, old ajumma's and ajashi's calmly waiting  for customers in their shops sitting on a chair while watching popular music shows on TV.  It is a completely different experience  from what we are becoming used to, big shopping malls  and supermarkets chain, where everything is perfect, shiny but at the same time stereotyped and with a sense of alienation.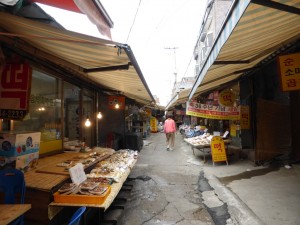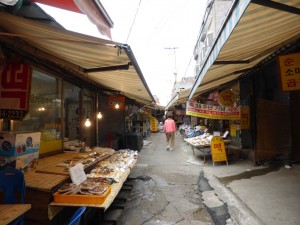 In Ayehon market you can complete your shopping list, as different goods can be found one after each other as you walk across the narrow passages. From fruits and vegetables, with a more reasonable price that I have found in other markets, to fresh fish and meat. There are also stands of many kinds of grains and beans, collected in big plastic buckets. The atmosphere is authentic, more humble, but with a more genuine and human, where I believe honest bounds can be built between vendors and customers, a connection that fortunately still can be found in markets like this.
If in a mood of a sweet treat, there are also tteok (sweet rice cakes) that ajummas prepare daily at their stands.  As I proceed inside the market  my attention is captured by small tailors laboratories where young and old people work side by side. They seem very busy and pay no attention to people walking trough the market. I also find along the passages a few shops of hanbok (traditional Korean dress), and I am able to capture a funny moment when the ajoshi sleeps on a chair in front of the TV while his wife (presumably)  works folding dresses behind him.
My walk trough the market comes to an end since I have to go to another part of the city to visit another room. This walk in Ahyeon market has been pleasant but also has showed me how this traditional market still exists although the continuous transformation of Seoul. Big apartment complex start rising all around Ahyeon area and that will probably bring a necessary change in the market as well.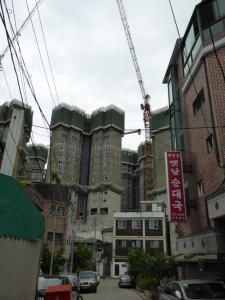 As happened in Seoul before the World Cup in 2002 for the construction of the new stadium, when city planners wanted to bring down the Mangwon market and replace it with modern and luxurios apartment complex with the consequences of forcing local communities to move to cheaper areas.  After the protests of the local residents though, a compromise was found and the Mangwon market was renewed, expanded and given a more clean and modern look without altering completely its character .
At the moment Ahyeon market is also at risk, and its future is not defined as construction sites changes the shape of the neighborhood. My worry is that this old-time atmosphere will soon come to an end.
Personally I think that these kind of markets are a resource that should be preserved and hope that these historical memories of Korean daily life won't be lost by another shopping mall.
If you want to visit the market, it is located few meters away from the exit 4 of the Ahyeon station (Line 2 – green line).
Sources:
http://thethreewisemonkeys.com/2010/12/13/ahyeon-shijang-the-disappearing-korean-outdoor-marketplace-pt-2/
[nggallery id=2]