Summer in Korea always brings hot temperature and many days of rain. Being able to bare the heat and humid weather is crucial and fortunately there are many Korean dishes that can give you relief and restore your stamina. Korean food is known for its seasonal dishes and today I want to introduce you some of the most popular summer ones.
10. Chi-mek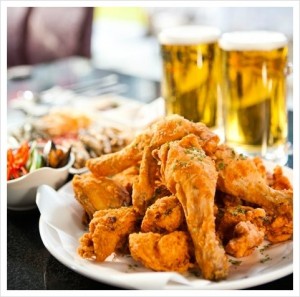 Beer is an elective summer drink and fried chicken is a great match. Many people enjoy the combination sitting on the terraces of the many restaurants across Korea.
9. Jangeo-gui (장어구이) 
Grilled eel is a popular summer dish in Korea and it's known for being a source of vitamins and providing an energy boost if you are low on stamina. Enjoy delicious eel seasoned with soy-sauce, garlic and sesame oil and then grilled to perfection. You can also eat it together with steamed rice ( Jangeo-deopbap)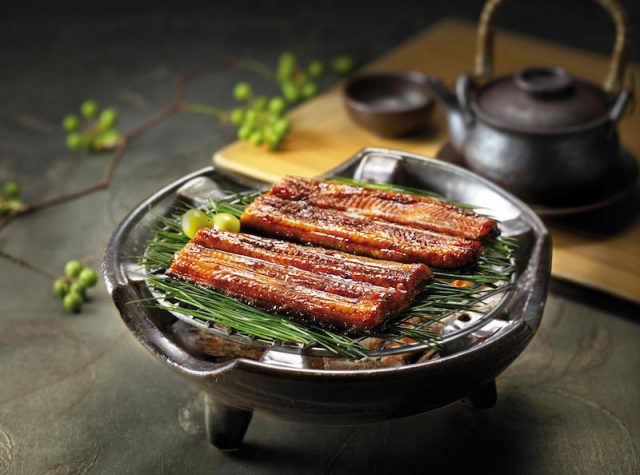 8. Samgyetang (삼계탕)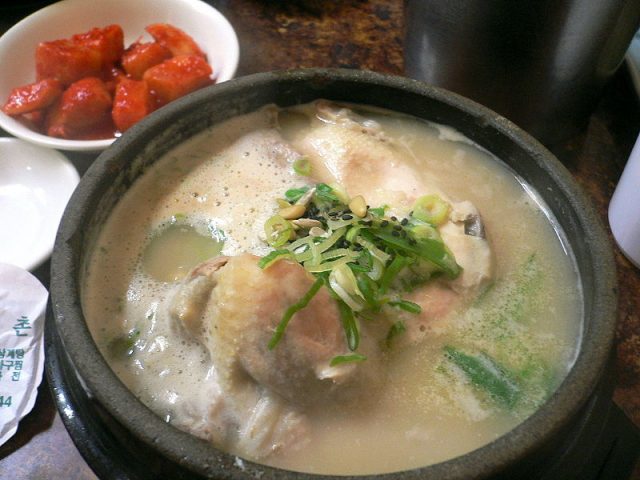 Koreans believe that the best way to endure the hot weather is to "fight the heat with the heat" so that's one of the reasons many hot soups are eaten during the summer. Samgyetang is definitely one of the most popular and the combination of ginseng, chicken, glutinous rice, jujube and herbs make it a complete dish with an high nutritional value, an ideal meal to recover from fatigue and exhaustion.
7. Makguksu (막국수)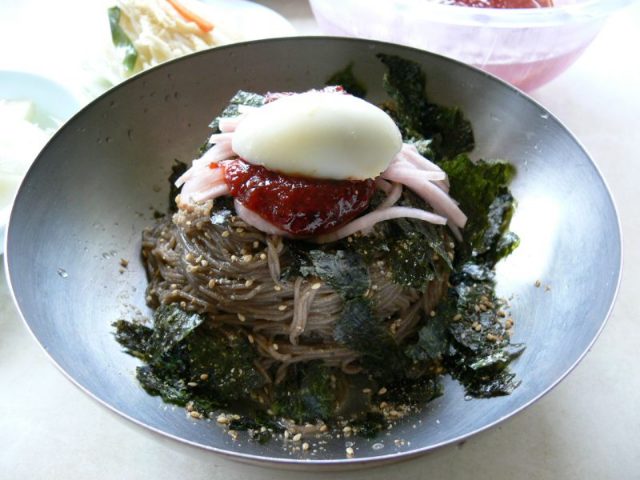 Cold noodles are some of the most popular summer dishes and makguksu its one of them. Buckwheat noodles are cooked and then placed in a cold broth(sometimes made with kimchi), with cucumber, vegetables and meat and topped with red chili paste. This dish is a specialty of the Gangwon province and the difference between this dish and naengmyeon is that in makguksu the noodles are made only with buckwheat flour, giving them the characteristic chewy texture.
6. Patbingsu (팥빙수)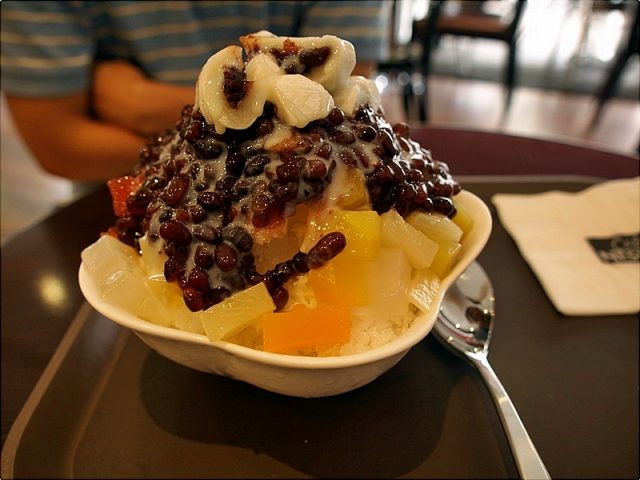 Before trying Patbingsu for the first time I thought it would have been something similar to the Italian 'gelato' but I soon discovered it was nothing alike.  In Patbingsu shaved ice is topped with fruits, sweet red beans, candies, condensed milk and any other addition you like!It is sweet and chilling and is common to see people sharing a big Patbingsu together.
5. Chogye guksu (초계국수)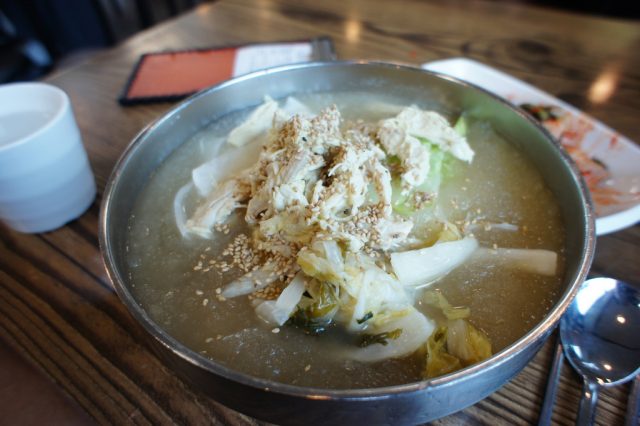 Chogye guksu is another chicken dishes, together with Samgyetang and Jjimdak. Knife-cut noodles are served with chilled broth made by chicken, vinegar, and several herbs (mustard is among them). Taste is very unique, strong and refreshing,  thanks to the cold broth and the vinegar.
4. Oi-muchim  (오이 무침 )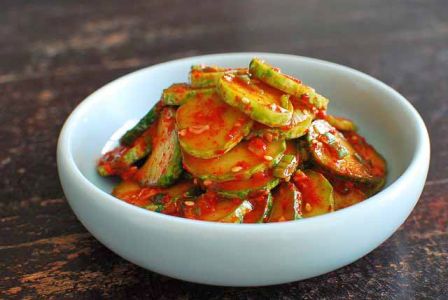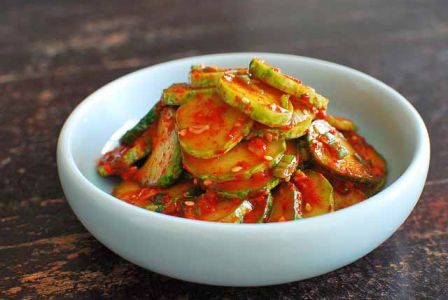 A popular summer dish (and also one of my favorites banchan – side dishes) is Oi-muchim.  Cucumber is sliced and then dressed with vinegar, onions, red chili pepper flakes and sesame seeds. Sweet and sour taste make it a perfect side dish for the summer.
3. Jjimdak (찜닭)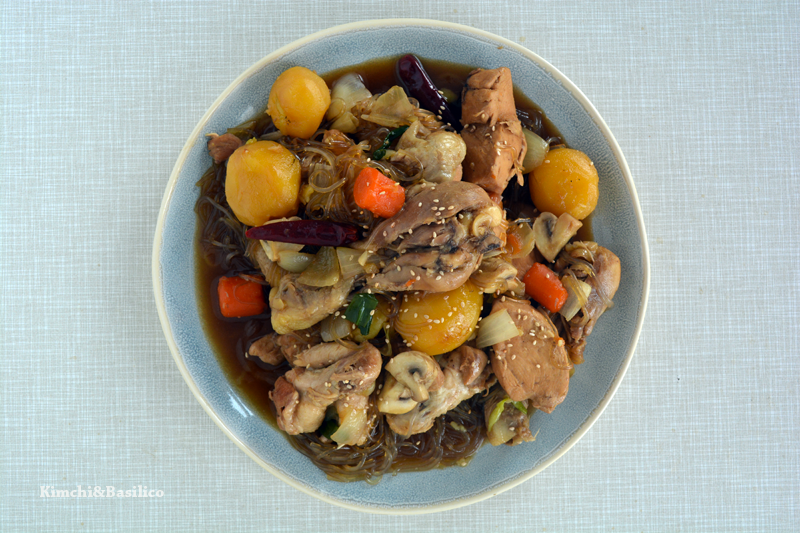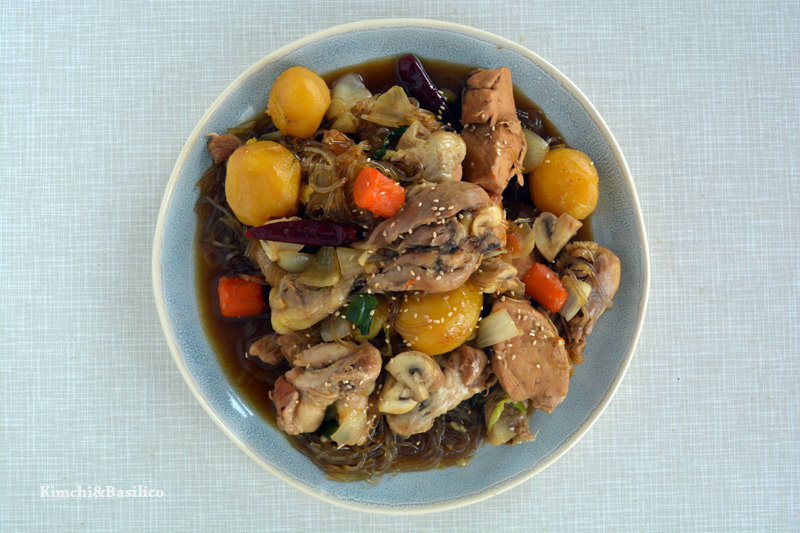 Chicken is without any doubt a summer food, and Jjimdak is one of the most delicious preparations. Chicken is cooked with peppers, mushrooms, carrots in a soy based sauce, and then glass noodles are added. Flavor is rich and is a great dish to share with others in the hot summer evenings. Jjimdak is usually served together white kimchi soup and don't forget to have a serving of rice for the bokkeumbap!
2. Kongguksu (콩국수)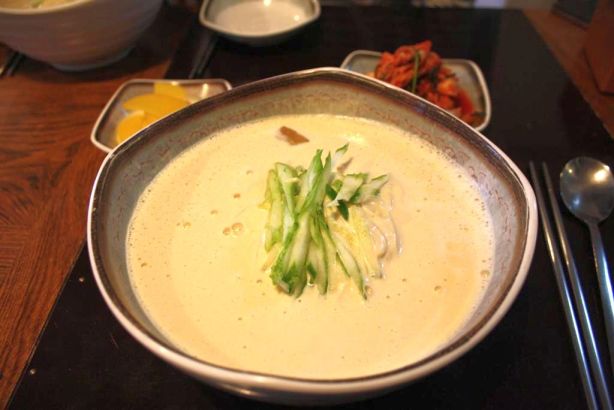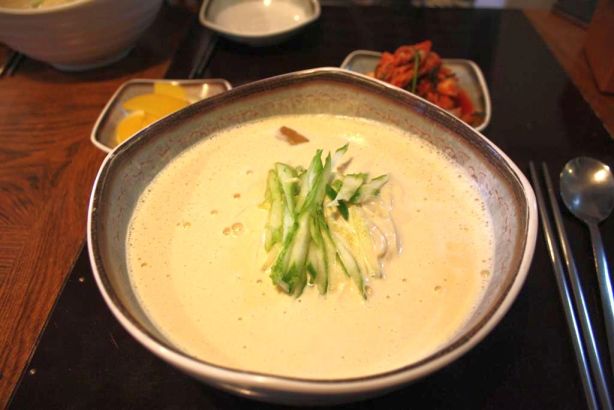 This dish is another one of my favorites, and it brings me back memories of my time in Korea. The soy beans are boiled  (after being soaked in water overnight) and then put them in a blender. After blending the soybeans, cold water, pine nuts and a pinch of salt are added to make the broth. The cooked noodles are added to a bowl with ice cubes and thedish is garnished with cucumber.
1. Naengmyeon  (냉면)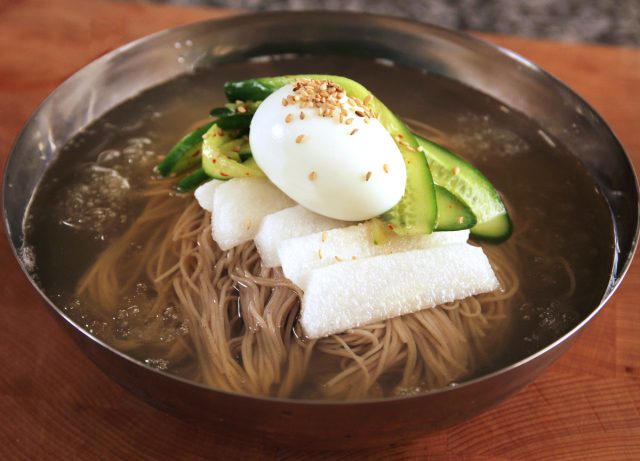 Naengmyeon is a Korean cold noodles (made of buckwheat, potato, sweet potatoes flours) dish made of beef broth with ice, vegetables, pear and slices of meat, topped with a boiled egg. Nowadays this is one of the most popular summer dishes but actually its origins are from North Korea, where it was not strictly prepared during the summer but also during the winter.
Another delicious way of enjoy cold noodles is the bibim-naengmyeon, where noodles are prepared with vegetables, meat and spicy sauce.
Korean cuisine has a huge variety of seasonal dishes and there are many that didn't make it into the list but are worth mentioning like mul-kimchi or milmyeon.  Do you have a favorite Korean food that I haven't included and that you love? Share it with us!