Hi All,
Today we will talk about a typical summer dish: Naengmyeon (냉면) cold noodles soup!
This dish, originally from Pyongyang area was introduce in South Korea after the Korean war. Naengmyeon consist in long noodles (they can be made from buckwheat, sweet potato or arrowroot) served in a bowl (usual made of metal) with cold broth with ice, sliced cucumber, egg,  a boiled slice of beef, scallion, slices of asian pear and garnished with sesame seeds.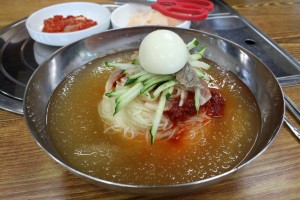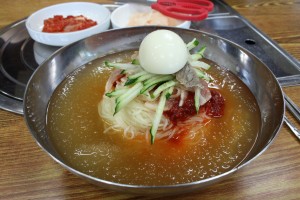 The two main variants of cold noodles are Mul Naengmyon – 물 냉면(watery noodles as described above) and Bibim Naengmyoen – 비빔 냉면 that are cold noodles without broth and served with spicy red pepper paste (gochujang).
We had watery noodles in a restaurant in Hongdae during a very hot summer day. They were a blessing to cool down our body!
The dish is served together with few side dishes like kimchi and radish plus a pot of warm beef broth. Usually people drink this warm broth and eat the egg before starting eating the noodles: this makes sure that your stomach is prepared to receive the coldness coming from noodles and cold broth.
The waitress will also bring a pair of scissors together with the dish and you will need to cut  the noodles since they are very long.
Let's prepare mul naengmyeon together!
Ingredients for 2 people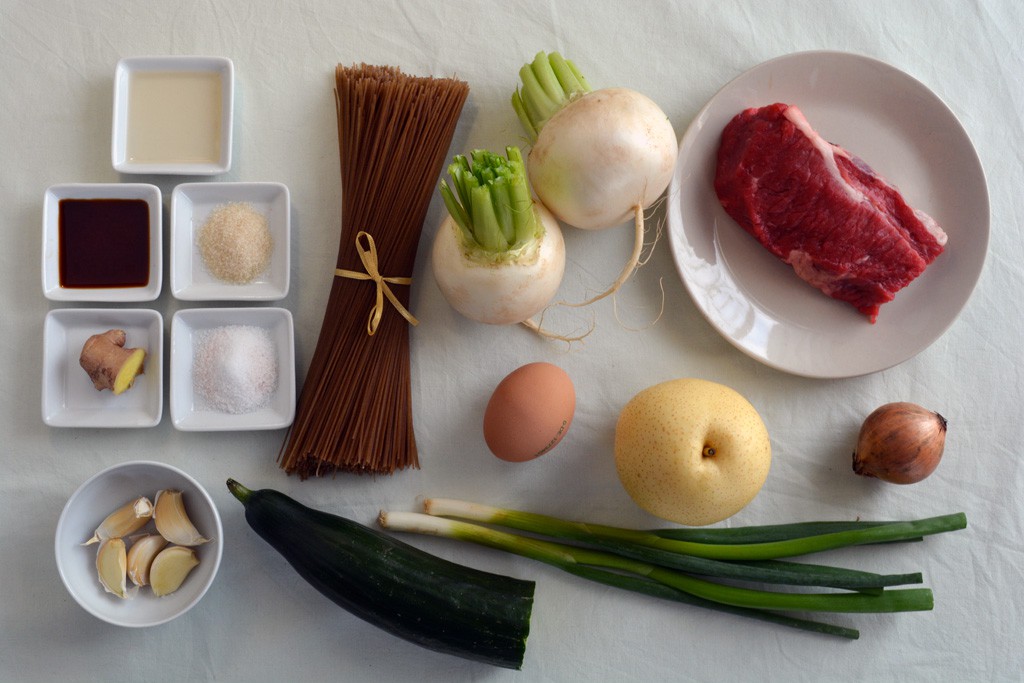 250 grams ( 9 oz ) buckwheat noodles
For making the broth
7 oz (200 grams) beef brisket
1 sliced onion
2 chopped green onion
1 spoon sliced ginger
1 small sliced radish (100 grams or 3 oz)
3 ts salt
1 tbs soy sauce
2 ts sugar
5 cloves of garlic
1 ts vinegar (apple or rice)
2 liters (7 cups) of water
 For garnish
1/2 Korean pear
1/2 cucumber
1 egg (1 half each serving)
pickled radish (optional)
cooked beef sliced
Instructions
Prepare the meat for the broth: soak the beef in water for 1-2 hours. Drain it and rinse it well. In the mean time we can prepare the pickled radish (optional)
Pickled radish (optional): Peel, wash and slice 1 small radish thinly. In a bowl, mix the sliced radish and 2 tablespoon of salt. Let it sit for 30 minutes.
Make the broth: in a big pot add 2 liters of water, add the meat and bring to boil on high temperature. When it starts to boil reduce to medium heat. Let it cook for 1.5 hours. After 1.5 hours remove the meat, set it aside to cool down (we will slice it later for the garnish)
Add chopped vegetables to the pot ( onion, green onion, ginger, radish, garlic) and add salt, vinegar, soy sauce, sugar and let the vegetables boil for 30 min. After 30 min, turn off the heat and let it cool down.
Strain the beef and vegetables broth using  a cheesecloth, so the fat will be removed, and a clear broth will remain. Store it in the fridge. Before using the broth for the dish, strain it one more time.
Prepare the garnish:

Hard boil the egg. After the egg is cooked, peel it and cut it in half.
Peel and slice Slice the pear thinly.
Remove the seeds and slice the cucumber  thinly.
Slice thinly the meat against the grains.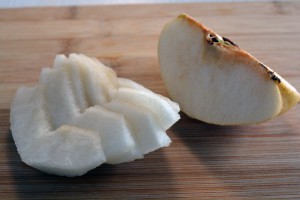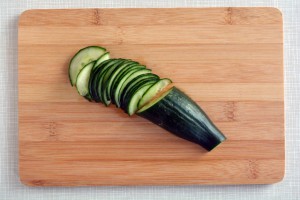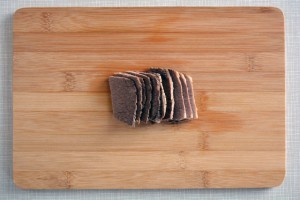 Now we will cook the noodles: cook the buckwheat noodles in boiling water for about 3-4 minutes or until soft and drain water. Rinse the noodles in cold water immediately, using your fingers through the noodles to remove the starch.  Drain the noodles with a strainer and divided in two servings.
Place the noodles in each serving bowl and pour cold broth.  Top with a few slices of Korean pear, sliced meat, sliced cucumber, pickled radishes and a half hard-boiled egg.