Hi All,
We were in Berlin last week and went to visit the Korean restaurant Hodori on Yorckstraße in the Friedrichshain-Kreuzberg  neighobourhood. The restaurant has a quite friendly and relaxed atmosphere with a home-style cooking. Seemed to me like of being in Seoul, in one of those restaurants where family go out for dinner, or where you can find office employees roll in after working hours. We decided to have dak bulkogi – stir fried spicy chicken with vegetables.
It was my first time that I tried this dish so I was very curious. After a short waiting time the waitress prepared the table with the gas burner and served the dak bulkogi in a stone pot pan directly on the fire. The chicken, still uncooked, was served with onion, spring onions, sesame leaves and potatoes. The sauce was made using red pepper flakes, garlic soy sauce, black pepper and sugar.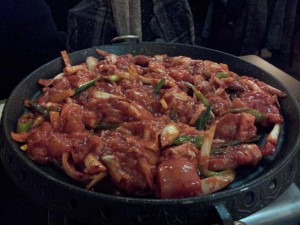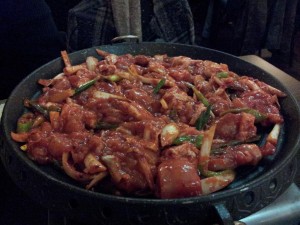 We cooked the dish by ourselves and stirring often with wooden chopsticks. After 10 minutes the dish was ready to be eaten! Each one of us took his own portion with a big spoon and served on his own dish. I had eaten chicken in many different ways and I must say that this kind of preparation really made my day. The sweetness and spicyness of the sauce, combined with the freshness of the vegetables made the meat taste delicious. The chicken meat, although the short time of cooking, had a perfect texture. To accompany this rich dish, we had soju! In Korea soju is the elective drink for convivial dish like dak bulkogi. We ended the dinner very satisfied and a bit drunk :). The dish was served with steamed rice and banchan (side dishes) included kimchi, pickled vegetables and fried small fishes.
Stay tuned for the next dish!
Vincenzo